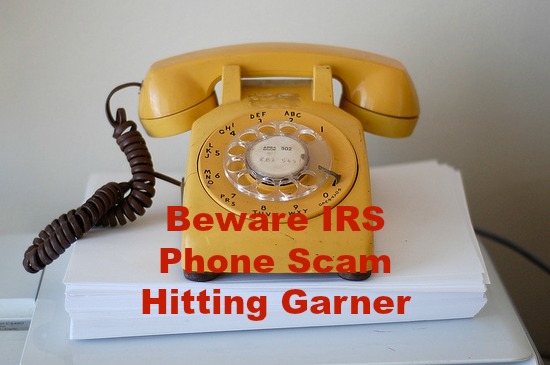 A new IRS phone scam is plaguing Garner NC consumers
Image Source: Flickr CC User Billy Brown
The North Carolina Department of Justice has issued a warning to Garner, North Carolina consumers that a new scam is hitting the city. We've written about bogus tax calls before, but since this scam is currently running rampant in Garner, NC, we wanted to offer some additional tips on how to spot the scam and protect yourself.
How Bad Is the Tax Fraud Phone Call Scam?
Even though we're a month past the 2016 tax filing deadline, tax collector scams are gaining momentum. The NCDOJ reported more than 500 consumer complaints about fraudulent tax collector calls within the past 10 days alone.
Garner consumers must be on the lookout. In addition to the influx of calls over the past two weeks, the Better Business Bureau has received more than 6,200 tax collector complaints in the past year, and the numbers keep rising. This fraud is growing, not ceasing.
What Areas of the State Are Hardest Hit?
In North Carolina, the two most common area codes for the scam are 919 in Garner and 252 in the northeast. The calls come in purporting to be from the IRS or Treasury Department and may feature a recording that says you owe taxes and will be arrested or sued if you don't pay up ASAP.
But the payment methods that these calls demand are the sure signs of a scam. You may be asked to pay via iTunes gift cards, wire transfers, money orders, instant money cards, or other nontraceable means. Here's what you need to know to recognize the scam as it happens and protect yourself from would-be predators.
Warning Signs and Tips about the Tax Fraud Scam
#1 The scam starts with a recording or caller who claims they are calling from the IRS or Treasury Department. In reality, neither of these Federal agencies will ever phone you asking for tax debt payment – they also won't threaten you with a lawsuit, arrest or jail time over the phone.
#2 The scam demands immediate payment using nontraceable means, but the IRS deals only in paper trails – if they really want your money, they'll send a letter.
#3 This scam relies on scaring you into giving thieves money. Don't let your fear override your common sense.
#4 If you get a call that says it's from the IRS or other tax authority, just hang up. Don't give the scammers a chance to scare you. Just end the call.
#5 Write down the number from your caller ID and if they keep calling, have it blocked. Methods may differ by home phone carrier, but you can usually use your keypad to dial *60 plus the number in order to block it.
Could Hanging up or Blocking the Call Get You into Trouble with the IRS?
NO. Not at all. The IRS is a government agency, and the Federal government loves its paper trails. The IRS communicates  via US mail. If you owe taxes or there is an error on your return, they will send you a letter, then another and then another.
If you ignore their notices, they may eventually try to garnish your pay. What they will never do, though, is call your house, threaten to arrest you and ask for a Money Pak or iTunes gift card. That's not how they work. Hang up on these calls ASAP.
Report Fraud
If you have been hassled by a tax fraud con artist, please report the details of your call, including the phone number to the North Carolina Department of Justice at www(dot)NCDOJ(dot)gov. Whatever you do, don't pay these scammers a dime and don't lose any sleep being scared by bogus calls from the IRS.
If you live in Garner and are struggling with debt you can't afford to pay – including tax debt – contact the Law Offices of John T. Orcutt to find out more about serious debt relief. Call +1-919-646-2654 now for a free Garner bankruptcy consultation. We have offices in Raleigh, Durham, Fayetteville, Wilson, Greensboro, Garner or Wilmington and are ready to help you now.