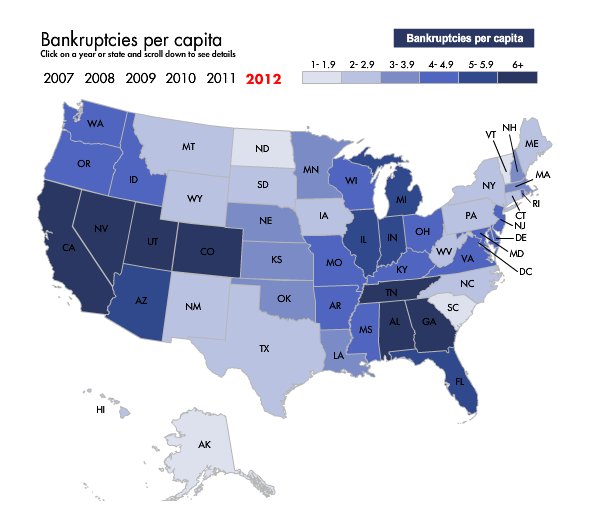 Image source: CreditCards.com
The numbers are in and it looks like between 2012 and 2011 bankruptcy filings in our state are trending downward. In 2011, in all districts of North Carolina, 23,535 bankruptcy cases were filed and this dropped in 2012 by 8.4% to 21,553. That sounds like good news, right? But is it?
National statistics also show a decline from 2011 to 2012 in bankruptcy filings in nearly all states. Is this a good trend? Is it a positive sign that the recession is over and people are regaining their financial footing? Or is it a disturbing indication that those in debt continue to be in debt, to the extent that they cannot even afford to file bankruptcy?
Although the South in general has significantly higher bankruptcies than the rest of the country, North Carolina continues to be one of the states with the fewest filings. Does this mean that we are handling our debt well or just refusing to handle it at all? One hopes it's the former and that we are a state of excellent money managers…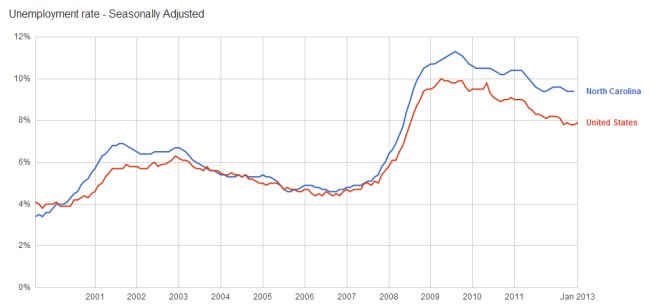 Image source: Google.com
Typically increases and decreases in bankruptcy filings follow unemployment trends, which makes perfect sense. If you study the graph above, you'll see that North Carolina's unemployment numbers closely parallel the national rates, but are actually higher. How is it then with unemployment higher than average that North Carolinians are seemingly declining to file bankruptcy?
I'm sure NC bankruptcy lawyers have an idea of what's driving this trend and why it will probably change in the near future. With the fifth highest unemployment rate in the nation, it seems that North Carolina is a prime spot for financial difficulties and debt stress. If that's not bad enough, news released this week will make it worse…
Beginning this July, North Carolina is drastically cutting unemployment benefits to less than half their current allowance. As of now, the unemployed can expect up to 26 weeks of assistance. After the new measure goes into effect, it will be as little as 12 weeks' worth of financial support. It gets worse from there. The current weekly maximum unemployment payment is $530 – this will drop to $350 in July. That's a 1/3 drop in the dollar amount of benefits and a 54% drop in the length of time the unemployed will receive assistance. If you're one of North Carolina's unlucky unemployed who's wearing out their feet pounding the pavement searching for a job, this news is nothing but bad.
Image source: BCSAlliance.com
Translation? NC bankruptcy attorneys should brush off the welcome mat and sharpen their pencils. No matter where you're a bankruptcy lawyer – Durham, NC – Greensboro – Raleigh or Chapel Hill, bankruptcy business is statistically likely to be booming.
What concerns me though – and which I wrote about recently – is that people who could desperately use debt relief and qualify for Chapter 7 bankruptcy – may not be filing because they think they can't afford to. It's a terrible notion to think that a few hundred dollars could keep you from financial peace of mind. The good news is that many a reputable North Carolina bankruptcy attorney are launching programs to help cash strapped consumers be able to file bankruptcy.
If you're searching for a reputable North Carolina bankruptcy attorney to help you with your Chapter 7 bankruptcy, Chapter 13 bankruptcy – or if you're not sure which program is best for you – we can help. With a zero down bankruptcy program, you can get the relief you need – right away – without any cash out of pocket. If you are unemployed, like so many North Carolina consumers, and the bills are piling up, bankruptcy may be the best solution to get you peace of mind and control of your financial future!
Dedicated to helping residents of North Carolina find the best solutions to their debt problems. Don't waste another day worrying about your debt. Call +1-919-646-2654 today to schedule a free initial consultation to discuss your bankruptcy options.