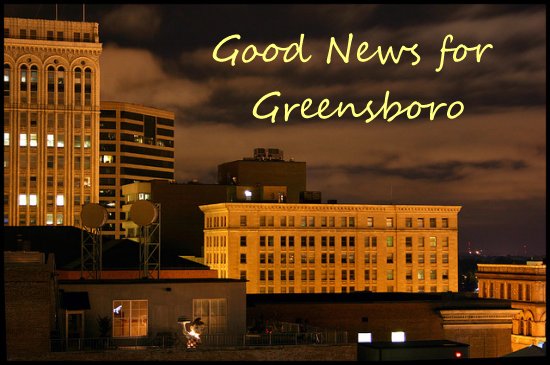 Greensboro NC minimum wage and job news
Image Source: Flickr User J.B.
There's good news about jobs in Greensboro, North Carolina. First, the Greensboro City Council voted to increase the minimum wage for all city employees. Second, Greensboro is turning into a hotbed of STEM jobs that are growing much faster than the national average. Today we'll take a look at these two positive signs and what that means for Greensboro, NC consumers.
Greensboro City Minimum Wage Increases
The Council split on a 7-2 vote a few weeks ago to raise the minimum wage to $10 an hour for seasonal and regular employees and $12 for benefited employees. North Carolina's state director for Working America, Carolyn Smith, says, "This is a step in the right direction for Greensboro and working families. What we've heard from city workers is that they love Greensboro. They're loyal to their jobs, but they struggle to take care of their families. This vote moves us closer to creating a family wage that will strengthen our community and gives businesses an incentive to follow suit."
The Council also discussed bumping the minimum wage up to $15 by 2020. Close to 250 employees will be affected by the rate increase. The vote significantly increases Greensboro city employee wages for those earning the state minimum wage of $7.25. That's a nearly 40% increase for regular and seasonal and more than 65% for those with benefits. That's enough to make a dent in the struggles of some of the lower earners working for the city of Greensboro and a good start.
STEM Jobs in Greensboro
A recent study by Bloomberg has identified top smaller cities in the US that may be far from Silicon Valley but are on the cutting edge of tech jobs. In Southern cities like Greensboro, NC, an emphasis on STEM jobs is replacing factory jobs that are falling by the wayside. In Greensboro alone, there are more than 16,350 STEM professionals working which represents around 5% of the total workforce there. In Charlotte, NC, nearly 7% of the workforce is in STEM - that equates to nearly 62,000 jobs.
Two other North Carolina cities delving into STEM jobs are Raleigh, NC where the more than 56,000 STEM jobs make up more than 10% of the workforce. And in Durham, NC, close to 14% of the workforce, or nearly 40,000 workers, are in STEM professions. What's great about STEM jobs is that they are high-paying opportunities where a Bachelor's degree may not be required – just some technical expertise or a certification. What's also great is that STEM jobs pay more than double that of non-STEM jobs, on average.
STEM jobs include software and IT positions, engineers, auto mechanics, accountants, architects and more. Any career that involves science, technology, engineering or mathematics is considered a STEM position. STEM covers a wide array of opportunities – some that require college, others that require certification and some that can be learned by on the job experience. It's a growing field and many North Carolina cities, including Greensboro, are jumping on board this job growth wave.
How Greensboro Bankruptcy Helps
If you live in Greensboro, NC and have struggled with unemployment, retraining to obtain a STEM job may be a great way to regain your financial footing. But even with a good job, a mountain of past-due debts can weigh you down. If you are behind on your bills, are living paycheck to paycheck and dealing with debt collectors, Chapter 7 or Chapter 13 can help. Chapter 7 gets you free of most of your unsecured debts while Chapter 13 allows you time to catch up on back balances.
Contact the Law Offices of John T. Orcutt today for a free Greensboro bankruptcy consultation. Call +1-919-646-2654 now and ask about our zero down bankruptcy specials. We also have offices in Raleigh, Durham, Fayetteville, Wilson, Greensboro, Garner or Wilmington. Don't stay in debt another day – bankruptcy can change your life for the better – and give you the fresh start you need.
Sources: