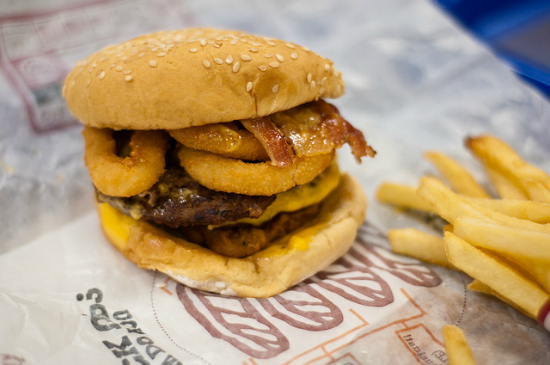 Greensboro, NC loves fast food
Image Source: Flickr CC User SteFou!
A study conducted by restaurant research firm Sandelman and Associated revealed that Greensboro, North Carolina ranks number three on the list of top 10 cities where people eat the most fast food. Usually, it's an honor to make a top 10 list, but this is not great news. Read on to find out more about the hidden cost of low-cost dining and how it might be putting you in debt.
Survey Says…
Not only did Greensboro, NC rank #3 on the list, but a second city in our state made the list as well. Charlotte, NC tied for the #10 spot. Here's the rundown of the top ten cities that eat fast food most often:
#1 Miami, FL
#2 Houston, TX
#3 Greensboro, NC
#4 Dallas, TX
#5 San Francisco, CA
#6 Washington, DC and Atlanta, GA (tie)
#8 Los Angeles, CA and Macon, GA (tie)
#10 Charlotte, NC and Oklahoma City, OK (tie)
Why Do Greensboro, NC Consumers Eat So Much Fast Food?
That number three spot on the fast food list means that Greensboro consumers average 17 fast food meals a month. That's a lot of McNuggets and Coca-Cola. This may be because Greensboro has lots more fast food around the corner than grocery stores. Plus, fast food is often easier to fit into busy schedules than a sit-down restaurant or a home-prepared meal.
One myth about fast food consumption, however, is that it's eaten more often by lower-income people. In fact, a Gallup poll showed that people who earn $75k or more annually eat fast food more often than other groups, and those earning less than $25k are the group least likely to consume fast food.
What Do That Burger and Fries Really Cost You?
In addition to the menu price, there are other costs that come from eating unhealthy fast food – and these can end up impacting your financial future. Many studies have linked consumption of fast food to type 2 diabetes, heart disease and other health concerns. Carrying extra weight costs Americans close to $147 billion annually in health care alone.
If your fast food habit impacts your health, not only might you see an increase in medical costs, but you may miss time from work which can result in decreased earnings, inability to save for retirement and a host of other financial ills. If you're one of the Greensboro, North Carolina consumers facing medical bills (with or without a fast food habit) bankruptcy may help.
How Bankruptcy Can Help with Medical and Health-Related Debt
If you've had health problems, an accident, or illness and racked up a pile of medical bills you can't afford to pay, North Carolina bankruptcy can help. Because medical debt is "unsecured debt," meaning it's not tied to an asset, it can be often be discharged completely in Chapter 7 bankruptcy. Even with Chapter 13 bankruptcy, your medical debt may still be partially or completely discharged.
If you're insured, you can end up with unmanageable medical bills if you have expenses that exceed coverage limits, are not covered at all, are out of network, or are leftover thanks to coinsurance requirements. IF you're struggling, you're not alone – medical bills are a common contributor to many bankruptcy cases. The good news is that you can come out of bankruptcy with no medical debt at all.
For a free Greensboro bankruptcy consultation, call the Law Offices of John T. Orcutt at +1-919-646-2654 now. Come in for a free North Carolina bankruptcy appointment at one of our convenient locations in Raleigh, Durham, Fayetteville, Wilson, Greensboro, Garner or Wilmington and find out more about the sweeping debt relief offered by Chapter 7 and Chapter 13.
Resources: