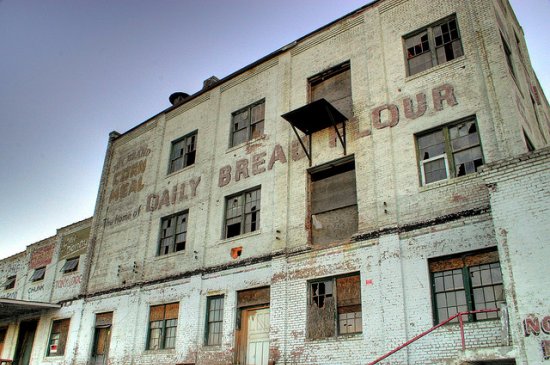 Greensboro is on the rebound
Image Source: Flickr User J.B.
The Greensboro unemployment rate is continuing to fall, and that's good news for those looking for a job. When the recession hit in 2009, unemployment rates plummeted in Greensboro, then recovered by mid-2010 only to plummet again. Then it spiked again in mid-2011, dropped then spiked again (but lower by almost a point) by mid-2102. But since 2012, the unemployment rate has dropped almost in half from 10.1% down to 5.4% at last count.
The Greensboro, NC economy is also recovering at a steady pace that is great for all of us. And part of that bounce back is a literal bounce! Retail developer Mark Gold is remaking the formerly run down Golden Gates shopping center into The Village at Golden Gate. He's achieved a 90% occupancy rate that is a remarkable sign of how well NC is doing now. And Gold's latest resident is the AirFun Park, which will move into the closed down Greensboro Harris Teeter.
AirFun Park is a $2 million upscale bouncy house complete with wall to wall trampolines, go karts, climbing wall, party room, and a dedicated parents-only zone. The new facility should open within the next couple of months which means they'll be hiring pretty soon. It also means opportunities for local contractors and other professionals. Peter Volum of P&P Greensboro, that's investing in the center said, "To bring it to Greensboro is a big thing for me. The right location is important. This is a big deal for that area, for that center which has been decaying. This shopping center is bouncing back."
This development is exciting and a sign of these more optimistic times. This also means that if you're looking for work, this development and other revitalization efforts can help. Planet Fitness recently announced they're opening their second Greensboro location in the Golden Gate shopping center which means more jobs there as well.
Other new businesses opening in Greensboro include:
Field & Stream 
Dollar General
Windsor Fashions
Preyer Brewing
In addition to the retail openings, the Piedmont Authority for Regional Transportation (PART) is building an $8 million 19,000 square foot transportation center in Greensboro. A groundbreaking was held today for the Howard Coble Intermodal Transportation Center on Arrow Road, which is named for a former US Representative. Construction will begin by August and will continue for 12 to 14 months. Not only will the facility expand public transportation that will benefit local workers and families but will also expand employment opportunities.
To keep the momentum going, Governor Pat McRory is pushing for state legislators to pass the NC Competes Act, which would expand incentives to lure more corporations into North Carolina. McRory went before Greensboro Partnership, which manages economic development for the city and appealed to them to push the General Assembly to pass the law.
And Brent Christensen, new CEO of the Greensboro Partnership, presented a three-pronged strategy to keep the Greensboro economic ball rolling. This includes: 
(1) recruiting outside companies 
(2) expanding existing local companies 
(3) encouraging local entrepreneurs 
Christensen said he would be "relentless in recruiting jobs to Greensboro."
If you live in Greensboro and have been struggling, these economic advancements can benefit you. But if you've experienced a bout of unemployment or other major life event that has wrecked your finances, also consider how an expert Greensboro bankruptcy attorney could help you get a financial fresh start. 
Contact the law offices of John T Orcutt for a free consultation with one of our North Carolina bankruptcy experts. Call +1-919-646-2654 today for an appointment at our Greensboro office or one of our locations in Raleigh, Fayetteville, Garner, Wilson or Durham.