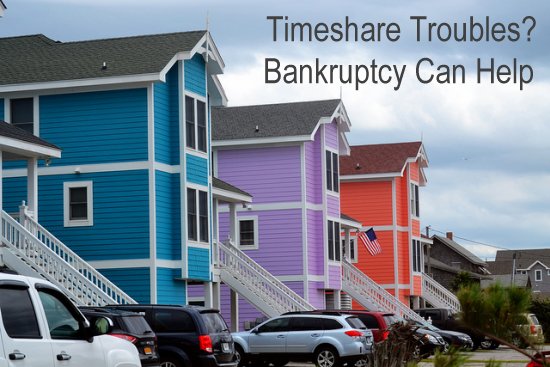 Is a timeshare among your debts? Bankruptcy may help
Image Source: Flickr User Tony Alter
North Carolina has a whole host of timeshare resorts, particularly along our beautiful coast. If you've invested in a timeshare and are now considering bankruptcy to get rid of unmanageable debt, you should know how a timeshare is handled in Chapter 7 or Chapter 13 bankruptcy. You may be able to keep it or may decide there's a better option available.
A timeshare is different than other real property – here's why
If you purchase a one-week a year timeshare, that same property has been sold to 51 other people as well – one buyer for each week of the year. You own only a fractional interest in the property. In addition to the agreed upon "mortgage" on the property that you pay for the privilege of using it one week a year, you also must pay maintenance fees for condo upkeep that can be very costly.
Can you keep your timeshare in bankruptcy?
Depending on the type of bankruptcy you're filing – Chapter 7 vs. Chapter 13 – you may be able to keep your timeshare. If your timeshare is newer, you may have more debt owing on it than equity (which is likely), so it will have no value as an asset. That means it can be shielded in many cases. If your timeshare value is low, you may be able to use part of your real estate exemption to protect your vacation property. However, if you want to keep it, you should make sure you can service the debt once your bankruptcy is complete.
Can you sell your timeshare before bankruptcy?
You may want to try and sell a timeshare you can't afford before filing bankruptcy. However, it can be difficult to sell a timeshare – the market for timeshare resales is not robust and if you can sell, you may not come out of the deal with any cash in your pocket. Unlike most other real estate, timeshares do not appreciate much, if at all. And if you do make any money from the timeshare, it may be taken by the Trustee to cover some of your debt. On the plus side, you would be out from under the monthly payments and maintenance costs.
Can you ditch your timeshare in bankruptcy?
In short, yes. If your timeshare installment payments and maintenance fees are too expensive to keep up with, abandoning the timeshare may be the wisest alternative. As part of your Chapter 7 bankruptcy, you can opt to surrender your timeshare back to the company that holds the title. You must file a Statement of Intention as part of your Chapter 7 petition to end your personal liability for the secured loan and have it eliminated as part of your bankruptcy. This means you will no longer have access to the property but will also be out from under the associated financial obligations.
How can you decide what to do with your timeshare?
Before you commit to one decision or the other, consult with a reputable North Carolina bankruptcy attorney. They can take a look at your debt, income, assets and equity and discuss your goals for the future and the reasons for your financial distress. With all the details in hand on your unique financial circumstances, the attorney can suggest the wisest options for your consideration. It's always up to you to choose the path of your bankruptcy and financial future, but an expert bankruptcy attorney can help you understand your options.
If you live anywhere in NC, contact the Law Offices of John T Orcutt for a free North Carolina bankruptcy consultation. Call +1-919-646-2654 for a free appointment at one of our locations in Raleigh, Durham, Fayetteville, Wilson, Greensboro, Garner or Wilmington.