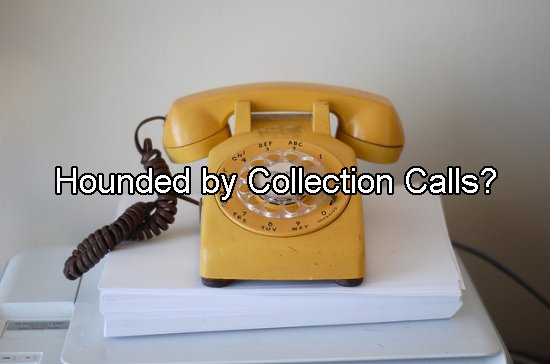 Greensboro consumers must know their debt collection rights
Image Source: Flickr User Billy Brown
If you're a Greensboro consumer that can't afford to pay some of your bills, you should be expecting a call from a debt collector soon. But how should you handle debt collectors? Should you ignore the calls? Should you take the call and make excuses? Can you stop a debt collector from calling you? What if they call you at work excessively? Here's what you need to know about dealing with aggressive debt collectors.
What Are Debt Collectors Not Allowed to Do? 
The Federal Trade Commission (FTC) enforces the guidelines on debt collection established by the Fair Debt Collection Practices Act (FDCPA). Under the FDCPA, debt collectors are prohibited, by law, from abusing you, lying to you, threatening you beyond the scope of their legal means, intimidating you, or using deceptive practices to try and collect the debt.
However, just because it's against the law, doesn't mean a debt collector won't do it. Some debt collectors are ultra-aggressive and routinely step outside the bounds of the law. The Consumer Financial Protection Bureau (CFPB) sanctions and sues debt collection firms that engage in shady practices, but that takes time and won't help you right now as you deal with your debt.
What Are Debt Collectors Allowed to Do? 
For those Greensboro consumers that can't pay their debt, debt collection activity is inevitable. Primary debt collection activity starts with the creditor you owe. The credit card issuer, mortgage lender, vehicle financing firm, or whoever loaned you the money or gave you the line of credit is the first line of debt collection. Creditors have an in-house collection department that you should hear from first.
Typically, collections directly from creditors are more likely to be within the bounds of the law. But that's not true in every case. Some lenders and creditors cross the bounds of the FDCPA. Creditors and debt collectors are allowed to call you to ask for you to pay your delinquent debt. They can remind you what you owe, ask when you can pay it, and ask why you're not paying.
They can call you during reasonable hours but not repetitively. They can call you at work but most stop if you tell them you're not allowed to get those kinds of calls at work. They can't call you there repetitively either. Collectors cannot tell anyone else about your debt. They can mail you reminder notices to your home and can tell you what options they have including filing a lawsuit or repossessing the collateral.
How Should You Communicate with a Debt Collector? 
If you're a Greensboro consumer saddled with debt you can't afford, here are some things to consider. When you've had a little hiccup that has put you behind, but you can recover, it's a good idea to talk to the creditor, explain your circumstances and discuss how they might work with you to get you caught up on the debt. The creditor wants things to get back on track as much as you do.
When you can't work things out with the creditor, and the debt grows more delinquent, it will eventually be referred to an outside debt collector or sold to a firm that specializes in buying debt and collecting on it for maximum profit. That's when things usually get more aggressive. If you can't pay the debt, you can tell the collector you can't pay. If they escalate, you may have to take defensive action.
Bankruptcy Ends Debt Collection Stress
You can tell a debt collector to stop calling you at work, and they must stop. To get them to stop calling you at home, you must submit the request in writing. However, if you cut off all lines of communication, the debt collector might get more aggressive and file a lawsuit against you to sue for the debt. But if you can't pay the debt and you're in over your head financially, you might want to avoid the debt.
For those Greensboro consumers too deep in debt to dig out, filing bankruptcy might be the better route. The best thing about filing bankruptcy is that as soon as your lawyer sends your case file electronically to the court, by law, all debt collection must stop. After that, if you get a debt collector call, tell them you filed bankruptcy, and you shouldn't hear from them again.
To find out more about dealing with debt collectors using bankruptcy, contact the Law Offices of John T. Orcutt. Call +1-919-646-2654 now for a free Greensboro bankruptcy consultation at one of our convenient locations in Raleigh, Durham, Fayetteville, Wilson, Greensboro, Garner or Wilmington.