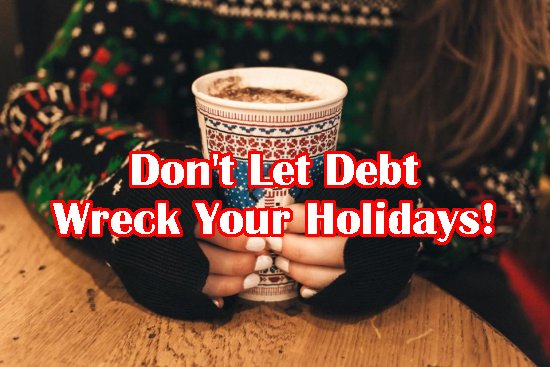 Ditch debt and have a better holiday
Image Source: StockSnap.io
Debt collectors can be relentless. Some will call morning, noon and night, on your home phone, cell phone and at work. Most will obey the rules of the Fair Debt Collection Practices Act (FDCPA) but some won't and will call at unreasonable hours, one call after another, and may threaten you with arrest or other bad outcomes that they can't make happen. There are a few ways to shut down these harassers that might ruin your Christmas with non-stop collections call. Here's how.
#1 Make a Request
Debt collectors are legally allowed to call you between the hours of 8 am and 9 pm. They are not allowed to make call after call, though, because that is considered harassment. There is a difference between calls made to you at work versus at home or on your cell phone.
If you state to the debt collector that you're not allowed to receive personal calls at work, they must stop calling you there. You may have to put this request in writing to the debt collector, but you won't have to provide proof or any communication from your employer.
This won't affect calls to you outside of work but should put a stop to contact at the workplace.
#2 Write a Letter
The way to stop all collection calls is to make a formal request that the debt collector stop contacting you by phone. You don't have to explain why you don't want to be contacted via phone. You must put the request in writing and mail it to the debt collector.
The next time you get a call, ask for an address to send a written request. Send the letter via certified mail with proof of delivery. If you're called again, specify that you made a request in writing and so they are no longer allowed to contact you by phone and hang up.
If they continue calling, you can report them and they can be fined for FDCPA violations.
#3 Work Out a Payment Plan
Debt collectors are calling because you owe them money. If you can work out payment arrangements, they will stop calling. Even if it's just a few dollars a month, if you try and get on a repayment plan, that could put an end to the constant calls.
Alternately, working out a lump sum discounted repayment might work. In some case, when a debt has been assigned to a collection agency, they can settle it for less than the amount owed. If you can borrow from a friend or family to make a negotiated payoff, that might be better.
The other option is to make it clear that you can't afford to pay and they might leave you alone.
#4 Consider Bankruptcy
One of the fastest and most affordable ways to get out of debt and stop collection calls is to file bankruptcy. The moment you file, by law, all debt collection calls and activities must end. If you choose Chapter 13, you get on a repayment plan to pay back the debt over time.
With Chapter 7 bankruptcy, many of your debts can be discharged within a few months of filing and you won't have to pay them back. These include credit cards, medical bills, personal loans, and some back income taxes. Either option will end debt collector calls and harassment.
Filing bankruptcy can ensure a brighter Christmas season and that you're debt free in the New Year.
Discuss Your Options, Then Decide
Bear in mind that if you go with option one or two and cut off the lines of communication between a debt collector (or creditor) and you, they might decide to pursue more serious debt collection efforts such as a lawsuit. If you truly can't afford to pay, bankruptcy might be your best bet.
To find out more about the debt relief offered by bankruptcy, contact the Law Offices of John T. Orcutt. Call +1-919-646-2654 now for a free North Carolina bankruptcy consultation at one of our convenient locations in Raleigh, Durham, Fayetteville, Wilson, Greensboro, Garner or Wilmington.