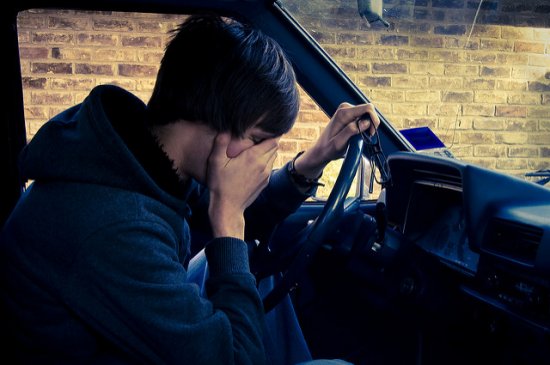 Don't let stress stop you from ditching your debt
Image Source: Flickr User Joseph Gilbert
Many Greensboro consumers get a chill when they hear the word "bankruptcy" because it's often seen as an option of last resort and something to be avoided at all costs. However, if your debt is to the point that you've considered bankruptcy, you're already in dire straits and probably dealing with many negative emotions. When clients come see us for their free Greensboro bankruptcy consultation, they're usually stressed out, nervous, unsure what to expect, and afraid for their family's financial future. Fear of the unknown is powerful, so today, we're going to demystify the process and let you know what to expect.
Fear Is Normal, but It Will Pass Quickly
Most people that come into our Greensboro offices to discuss bankruptcy are already in fear about their finances. If you're behind on your debts, you're no doubt getting collection calls from aggressive debt collectors making threats. In turn, this can have you obsessing about your finances and fearing what comes next. There is often anxiety because consumers are scared they will never resolve their situation.
Fact: Once your lawyer files your bankruptcy petition, all debt collection must stop immediately. You won't get another call, and if you do, once they learn you're in bankruptcy, you shouldn't hear from them again.
Anxiety Goes Hand-in-Hand with Unmanageable Debt
There's nothing worse than feeling helpless. If you can't afford to pay your credit card or doctor bills or have to choose between paying bills and buying necessities for your family, your anxiety level is probably through the roof already. Once you file bankruptcy, you free up money in your budget to better care for your family. Knowing your financial future is brighter can be life-changing.
Fact: Unsecured debt like medical bills and credit cards are discharged within a few months with Chapter 7 and with Chapter 13, you should pay just a percentage of these debts under your plan.
Uncertainty Is Natural but Can Be Alleviated Fast
When clients come in to discuss Greensboro bankruptcy, they want to know when their life will get better and what effect bankruptcy will have on their finances. In your first free consultation, the attorney looks at your finances, reviews your options, the differences between the bankruptcy chapters, and clearly explains what you can expect once you decide to file bankruptcy. Information is power.
Fact: Not only will debt collection calls stop as soon as you file bankruptcy, but you'll walk out of the appointment with a roadmap for your financial future so you can feel sure about what's next.
Guilt Is Common But Is Needless
Finally, one frequent emotion we see with clients is guilt. They often feel like they have brought financial disaster on themselves. In most cases, the Greensboro bankruptcy trigger is an unforeseen event or one out of your control. Divorce, an accident, illness, or unemployment are common reasons for debt, and these are usually not foreseeable. Guilt is another emotion to release so you can move forward.
Fact: Coming out of a successful bankruptcy with less debt and more financial freedom can leave you hopeful and outweigh any of these negative emotions that might be dragging you down.
After Bankruptcy, Focus on Your Future 
When we talk to Greensboro bankruptcy clients, they're usually so focused on the past and present that they can't think about their future. They think about past mistakes, their present circumstance of living paycheck to paycheck and they can't imagine a better tomorrow. Once you file bankruptcy and get your discharge in Chapter 7 or your repayment plan started in Chapter 13, you can focus on your future.
To find out more about the life-changing benefits of Greensboro bankruptcy, contact the Law Offices of John T. Orcutt. Call +1-919-646-2654 now for a free consultation at one of our convenient locations in Raleigh, Durham, Fayetteville, Wilson, Greensboro, Garner or Wilmington.