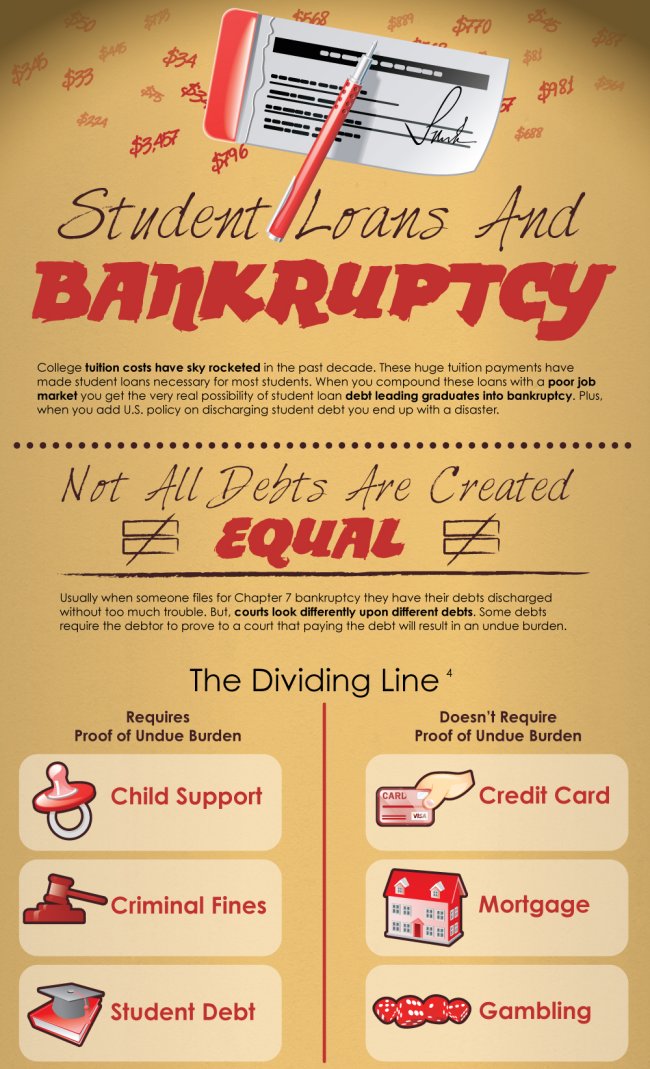 Image source: LawQA.com
It's taken as gospel that student loans cannot be forgiven in bankruptcy – but that's not entirely accurate. In fact, there are circumstances where educational loans can be forgiven – but you must be able to prove "undue hardship." Research done by a Princeton PhD student has revealed that 40% of those that ask to have their student loans rolled up in their bankruptcy get a "yes."
Jason Iuliano's paper "An Empirical Assessment of Student Loan Discharges and the Undue Hardship Standard" looks at which requests for student loan forgiveness are approved seeking out similarities for analysis. He has found three similarities in bankruptcy cases where the judge allowed student loans to be rolled up and dismissed:
Successful debtors were less likely to be employed
Successful debtors were more likely to have a medical hardship
Sucessful debtors were more likely to have lower annual income the year before they filed
What Is the Legal Standard for Student Loans to be Dismissed?
The main test judges require of debtors asking for student loans to be dismissed is the Brunner standard which asks three requirements to be met:
The debtor can't maintain a minimal standard of living based on current income and expenses for themselves and their dependents if they are forced to repay the loans;
Additional circumstances are present that indicate this situation is likely to persist for the majority of the repayment period of the loans; and
The debtor has made good faith efforts to repay the loans.
Basically, the tenets are that you can't pay the loans now, likely won't be able to pay them in the future but had tried to make the payments on the student loans. Temporary (or longer term) financial adversity must be demonstrated but the circumstances don't have to be particularly dire to qualify. This is the standard currently used in the Fourth Circuit which includes North Carolina.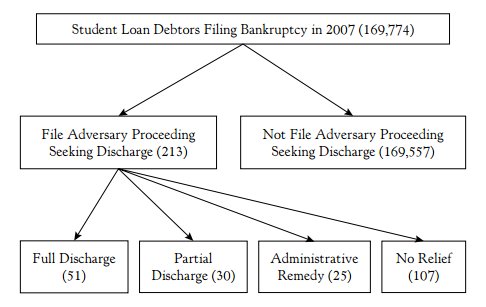 Image Source: SSRN.com
What Other Factors Help Decide When Student Loans Are Discharged?
Earlier research that Iuliano considered was done by Rafael Pardo and Michelle Lacey and looked at court opinions to try and pinpoint differences between those whose loans were discharged and those who were rejected. Their research identified similar, but not identical results as the later research. Pardo and Lacey found three traits among successful requests:
Successful debtors had lower incomes
Successful debtors had lower monthly expenses
Successful debtors were more likely to either have a medical problem or have a dependent with a medical problem
Another factor they found was that it often came down to the preferences of the individual judge. Judges can apply standards differently and because judges often don't publish opinions on hearings such as these, there's no way to know what influenced their decision. But what is likely is that if a judge is identified that's more sympathetic to student loan discharge requests, that's the one whose docket you want to try to be on.
A final factor Pardo and Lacey identified is that debtors with "highly experienced" attorneys were more likely to have their student loans discharged. This is why choice of bankruptcy attorney is critically important. You always want the best legal counsel possible, but in bankruptcy proceedings where student loans are part of your request, an attorney with a track record of getting them discharged is preferable.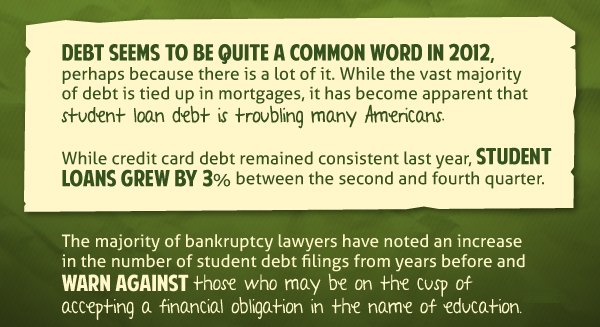 Image source: TotalBankruptcy.com
What Is The Biggest Factor In Student Loan Discharge in Bankruptcy?
The biggest factor is not asking for it. Just because you owe student loans doesn't mean they will automatically be considered for dismissal as part of your bankruptcy. You must specifically request discharge of them. Iuliano's research found that 40% of those that ask for discharge of student loans get them. But what was far more shocking is that he found nearly 70,000 cases where discharge would have been statistically likely but the debtor never asked!
Of those with student loans who filed for bankruptcy just .1% requested their student loans be discharged! One-tenth of one percent! Iuliano did concede that some debtors may not ask for student loan relief from the bankruptcy court because they could have negotiated for dismissal outside of the filing, but says this is not likely, just a possibility. Because there's no statute of limitations on student loan collections, lenders have no reason to abandon loans.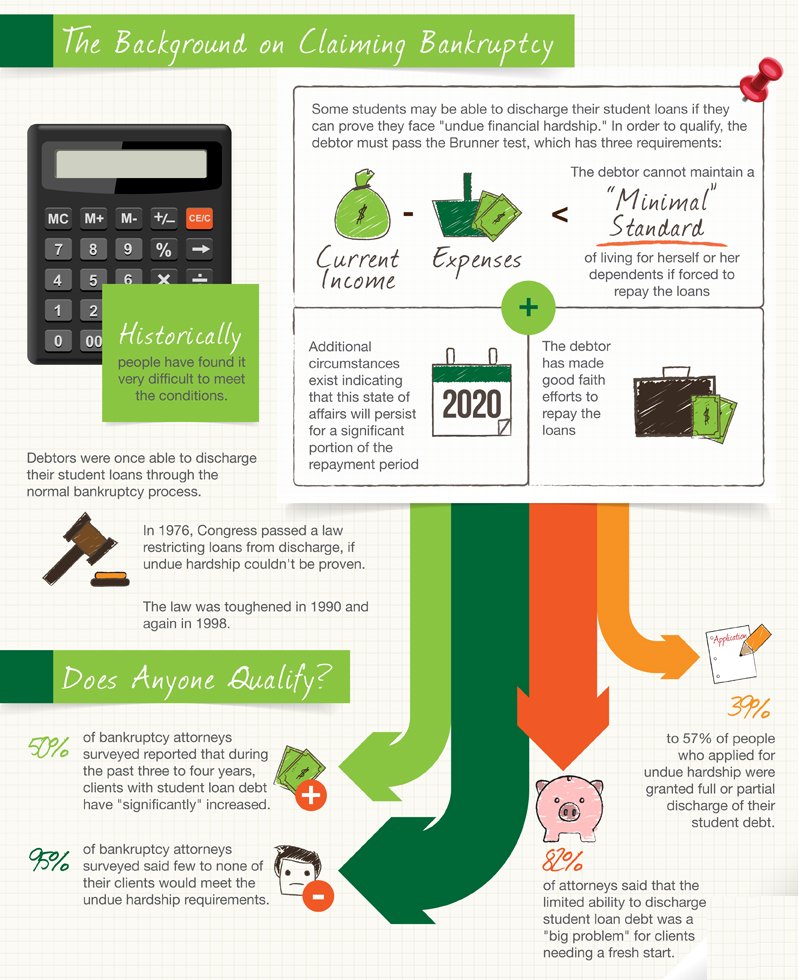 Image source: GirlsJustWannaHaveFunds.com
Why Aren't More Debtors Asking to Have Student Loans Dismissed?
To sum up Iuliono's conclusion – it's bad PR. A recent Huffington Post article quoted Rich Williams, former rep from the US Public Interest Research Group who refers to student loan debt as, "a special circle of bankruptcy hell reserved for dads who avoid child support and tax evaders." The article also added "Federal loans haven't been eligible for discharge in bankruptcy since 1978, to safeguard taxpayer money, but it wasn't until 2005 that this was extended to private student loans."
This makes it sound like it's impossible for student loans to be included in a bankruptcy. It's not. Your attorney will simply have to file an adversary proceeding to request consideration for student loans to be discharged. You know the saying "If you don't ask, the answer is always no." When it comes to getting student loans discharged in bankruptcy, this is a truism. If you're considering filing for bankruptcy and owe student loans you are having difficulty repaying, be sure to work with a reputable, qualified bankruptcy attorney who can help you sort out how the laws apply to your specific situation.
Dedicated to helping residents of North Carolina find the best solutions to their debt problems. Don't waste another day worrying about your debt. Call +1-919-646-2654 today to schedule a free initial consultation to discuss your bankruptcy options.