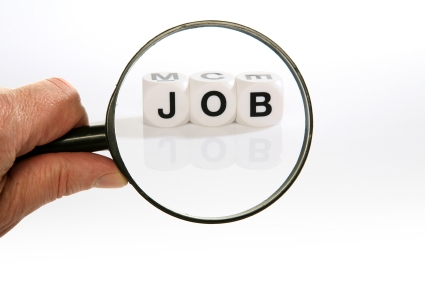 It would make sense that recent signs of recovering economy would be great news for jobless Americans. But as a report on public polling explains, even though the overall economic picture may be brightening, many job seekers are still very much in the midst of a stark economic haze.
According to a report from The Huffington Post's Janell Ross, "Economic data suggests the long-stagnant economy may finally be gaining momentum, but Americans aren't seeing a turnaround yet, according to a pair of newly released polls. The economy -- and more specifically the nation's persistent jobs crisis -- remains the number one concern for most Americans, according to a CNN/ORC International poll released Friday. Nearly 60 percent of those polled said the economy is in dire need of attention and repair. For African Americans on the job hunt, good news is even harder to find. Black adults, including those with college degrees, are unemployed at a rate two times that of other workers, according to a Kaiser/Harvard Kennedy School/NPR poll released Friday."
As a result, while a vast majority of our fellow Americans are feeling the economic pinch, unemployment is hitting some demographics much harder than others, marking a return to the major labor gaps that marked the economic downturn. And so while, overall joblessness edged down to 8.6 percent in November from 9 percent in October, according to the Labor Department—with much of that decline coming from those simply leaving the labor force—the nation's black unemployment remained at a staggering 15.5 percent average in November.
The result is familiar: "Nearly 60 percent reported drawing money out of their savings or retirement accounts to pay ordinary bills. A little over half of these same respondents said they had either sold personal belongings or borrowed money from family and friends in order to cover expenses, or had been contacted by a collection agency over bills.
A similar percentage said that being unemployed has caused health problems, such as significant weight loss or weight gain, sleeping difficulties or stress-related illnesses. One tenth reported having been prescribed medication for a mental health problem since they stopped working. And filling those prescriptions has likely been difficult, since more than half of the long-term unemployed…said they were uninsured.
Nearly half of the unemployed and underemployed polled have had trouble paying for housing, and about a third have moved in with relatives of friends to save money. A quarter of those polled have seen a utility disconnected because they could not pay the bill. Nearly 10 percent reported losing their home due to an eviction or foreclosure."
As the economy continues its "slow-to-no" recovery and the job market remains perilous, confidence in the benefits of bankruptcy continues to rise. If your own economic house is shaken due to credit card debt, repossessions or foreclosure, it may be time to take your financial future into your own hands.
The first step is knowing a qualified bankruptcy attorney who can help you regain your power, conquer creditors and face your financial fears, yielding—all with the right kinds of support, information and insights—at a low cost— for a viable and secure future.  The bankruptcy professionals at the Law Offices of John T. Orcutt offer a totally FREE debt consultation and now, more than ever, it's time to take them up on their offer. Just call toll free to +1-919-646-2654, or during the off hours, you can make your own appointment right online at www.billsbills.com. Simply click on the yellow "FREE Consultation Now" button.
And while you're at it, ask about the their new "$0 Money-Down" bankruptcy program. That's right. "$0 Money-Down". No upfront fees. No upfront costs. Call now.