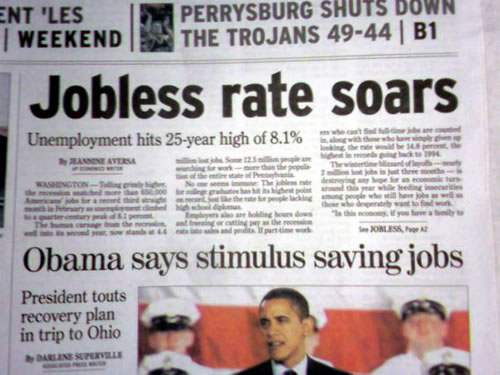 We all know that the Christmas holiday is a time for turkey-filled table settings, overstuffed family reunions, and, quite literally, reflecting on what we are fortunate to have- for large and small blessings throughout the year. But for many jobless Americans from California to the Carolinas, finding even the smallest things to be grateful for is more of a struggle in 2011 than possibly ever before, as they not only face limited unemployment incomes, but diminishing benefits in the new year.
In fact, according to an October analysis released by the National Employment Law Project, 1.8 million out-of-work Americans will have to find a way to live if Congress fails to pass a bill extending federal unemployment payments by year's end. According to the analysis, hat staggering figure could inflate to as many as 6 million people by the end of 2012 if Congress refuses to act.
This figure is best illustrated through the now familiar stories of jobless Americans like Pauline Richter. Richter, who was laid off from her job in June, is facing the distinct possibility that her unemployment benefits could disappear in January. While Richter searches for a new job, she, like so many in the "new economy" has learned to live on less, cutting back on luxuries like basic cable, downgrading her driving other than for job interviews, and keeping her holiday menu in check, despite trying to remain kosher with a food bill of nearly $400 every month. Her unemployment benefits cover that bill and utilities.
"I've just started to think about what that would really mean," Richter told The Huffington Post from her home about 15 miles north of Chicago. "I don't think it's going to be pretty. People who were in the middle class keep moving downward. My house is paid for, but other people aren't so fortunate. So I'm sure that if those benefits aren't renewed we will see more homelessness, more discontent. And the economy? People who are forced to keep lowering their expenses, they aren't just spending less and less. They are being forced to withdraw from society. Whether people know it or not, when you are talking millions of people, this is a tragedy."
This divestment of the American workforce, and lack of investment in American workers is having dramatic impacts on average household budgets—especially during the holiday season. Many are forced to turn to other financial options outside of their workforce incomes, including dwindling personal savings, tapping into retirement funds, and even personal bankruptcies.
In reality, there has been a steady stream of bankruptcy filings during the economic downturn, and even more during the so-called "economic recovery" of the past three years; and we can realistically expect 2011 to be no different, with yet another 1.5 million people expected to file for bankruptcy in 2011, with many of these debtors suffering from the symptoms of underemployment, unemployment, long-term joblessness, or a sudden lack of benefits.
A personal bankruptcy can, in fact, provide a very long-term solution to your part-time underemployment or unemployment woes. A Chapter 7 bankruptcy can erase unsecured debt like credit card bills, while a Chapter 13 plan can help you keep those things you have fallen behind on, like your home or car. These options can take the financial weight off of families like your own struggling to make ends meet in an environment where few Americans are feeling particularly financially safe and sound.
If you too have been affected by the lingering economic crisis and live in North Carolina, contact the bankruptcy professionals at the Law Offices of John T. Orcutt TODAY.