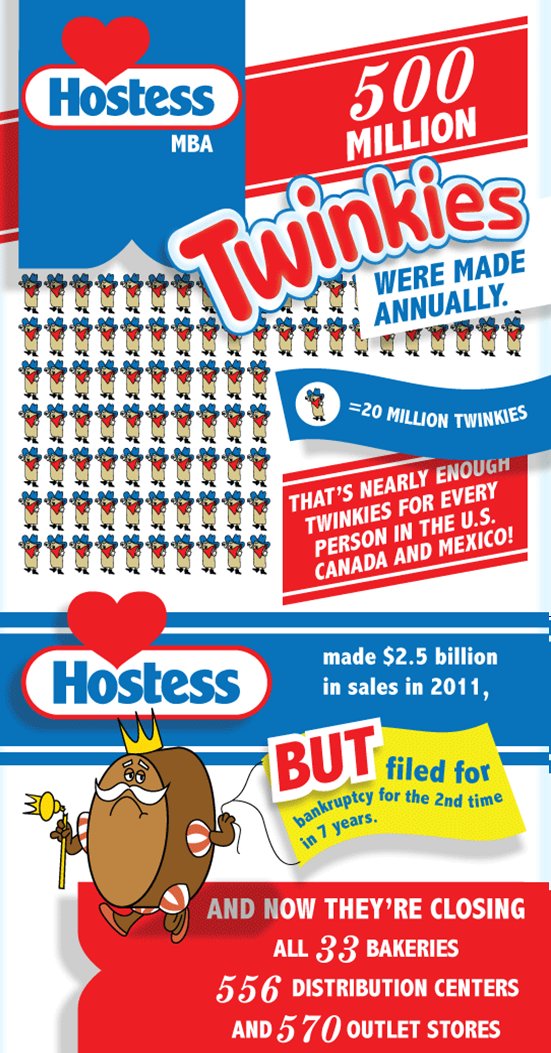 Image source: RickVanover.wordpress.com
This is a perfect storm of a couple of my favorite topics – bankruptcy and cake! A bankruptcy filing lasts for eight years, but rumor has it that a Twinkie can last for decades. And yet Hostess found a way to put an end to a junk food staple loved by millions of Americans that even time and bacteria couldn't destroy – financial insolvency!
Twinkies were invented in Schiller Park, Illinois in 1930 by the Continental Baking Company. The delectable snack cake was first filled with banana cream, but shortages of the tropical fruit during World War II led to the vanilla cream substitute we now all know and love. Since then, Twinkies have enjoyed a long run of popularity up until late last year.
2011 was the first year that Twinkies saw a dip in sales – pressure from health food advocates and concerns over America's obesity epidemic had finally taken hold. To make bad matters worse, the employee union at Twinkie maker Hostess was wrangling with the bakery and wasn't backing down. The union – which represented less than one-third of the employees - rejected an offer by Hostess with no explanation.

Image source: Blog.FishbowlInventory.com
Executives at Hostess threw up their hands and opted to file a Chapter 11 bankruptcy filing to liquidate their business holdings. The company had $1 billion in debt, plus what the corporation said were unreasonable union demands and opted for liquidation. This left tens of thousands of workers facing joblessness and the rest of us facing a gaping hole in our junk food appetites, where the golden crème filled cakes once happily digested.
Even the legions of Twinkie fans couldn't save the beloved dessert. Perhaps if Hostess had made better use of its brand advocates – encouraging them to share their love of the brand through social media channels – sales may not have declined, ultimately leading to their bankruptcy!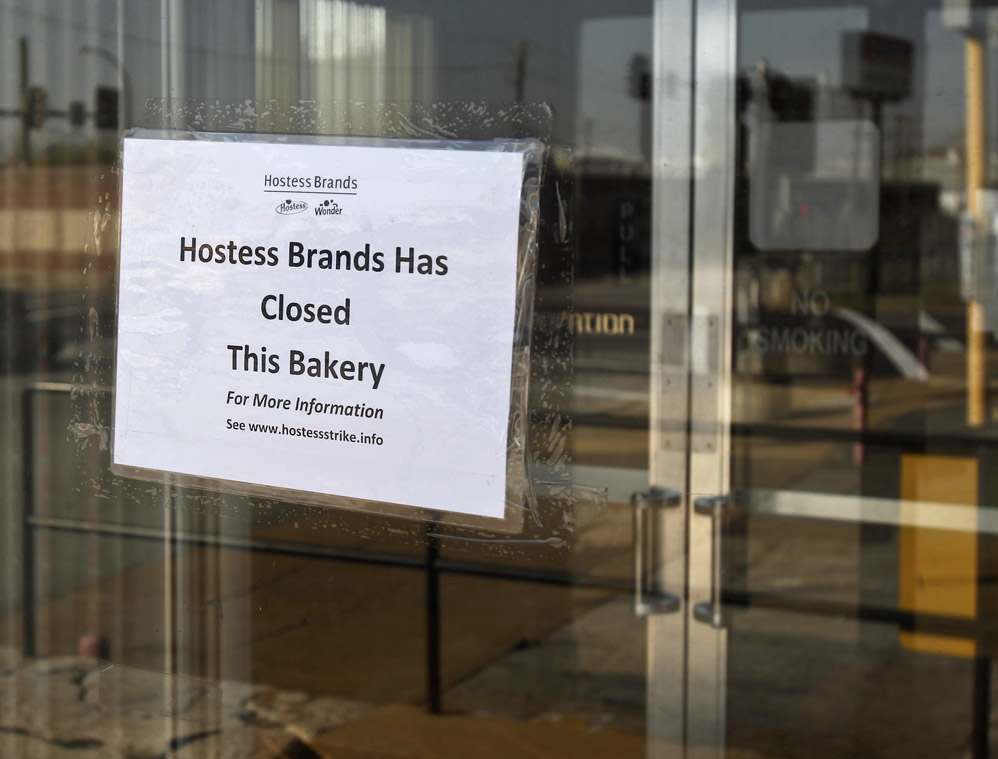 Image source: DailyMail.co.uk
This week, a bankruptcy judge will have the fate of Twinkies, Wonder Bread and other Hostess signature treats in his hands as offers come pouring in for the bakery's various brands and assets. The good news is for fans of the golden cake and its creamy vanilla innards – there's a likely bidder waiting in the wings to buy the Twinkies brand, along with Ho Hos and Ding Dongs (all fabulous sources of cholesterol, sugars and yummy goodness!)
In a Chapter 11 bankruptcy – used strictly by businesses – the judge will have to sign off on any sale of assets, but the offer for Twinkies is a pretty good one. Evan Metropolous has offered $410 million for the three snack cake lines and he knows a little about branding – his family owns Pabst beer. Twinkies and beer – that's a little outside of my culinary comfort zone – but it may be a good business match.
Metropolous has promised that if he can seal the deal, he'll get the iconic cakes back on the shelf as soon as possible – a boon for those of us who've been yearning for a taste of their sugary goodness since the last shipments were cleaned off store shelves in November.
If you own a business – of any size – and are having trouble managing your debt – Chapter 11 may be a viable option to help get your company finances back on track. If you're considering this option or wonder if it might be right for your business, contact a reputable North Carolina bankruptcy attorney for assistance. 
Dedicated to helping residents of North Carolina find the best solutions to their debt problems. Don't waste another day worrying about your debt. Call +1-919-646-2654 today to schedule a free initial consultation to discuss your bankruptcy options.