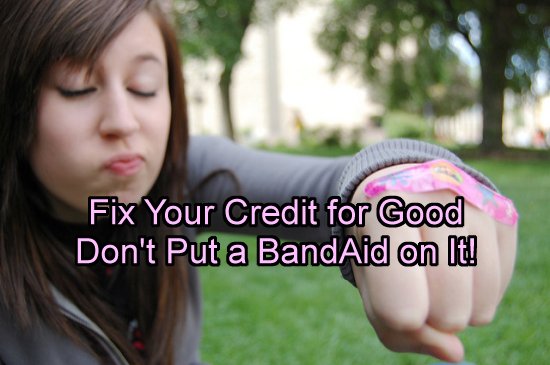 Bankruptcy can help fix bad credit
Image Source: Flickr User half alive - soo zzzz
Not only does having bad credit mean you can't get approved for credit you want—like a car loan or mortgage—but it also means you're paying more out of pocket for expenses tied to credit like car insurance and natural gas services. Here's a quick look at the high cost of bad credit and how bankruptcy can be the surest means to North Carolina credit repair.
How Much is Bad Credit Costing You?
If you have good credit, you can get a car loan with 0-5% interest. With bad credit, your interest rate can be closer to 18% which is almost like financing a car purchase on a credit card. Double digit interest on a car loan can see you paying $10k in interest (or more) on a $25k car loan. It's shocking.
Your car insurance cost can literally double if you have bad credit, even if you have a spotless driving record. Your natural gas costs can also double. Customers with bad credit often have to put down a sizable deposit and pay two times more than what those with good credit pay.
What is Credit Repair?
Many service providers offer "credit repair" services—some are law firms, some are not. Even those that are law firms cannot show a stunning track record of success. What these companies do, for starters, is try and get inaccurate items off your credit report. You can also do this yourself.
If some of your negative items are inaccurate, they will most likely be corrected rather than removed. So if you have a collection account showing a $2k balance when it should be $1k, they can change it, but it will stay in place. That won't help your credit score.
Credit repair firms can't remove negative items from your credit report that are accurate and haven't aged out (i.e. are older than seven years). That means, even after you pay thousands of dollars to a "credit repair" agency, your credit score may improve by just a little—or none at all.
How Does Bankruptcy Work as a "Credit Repair" Solution?
When you read about bankruptcy, you may see some sites that claim it ruins your credit for 10 years. That is categorically untrue. Yes, bankruptcy will stay on your credit report for 10 years, but the longer it is after filing, the less impact it has on your score calculation.
Not only that, but filing bankruptcy, particularly Chapter 7, stops your bad credit freefall and gives you a fresh start. If you're living paycheck to paycheck, maxed out on credit cards, and struggling to pay more than minimum balances, your credit is likely dropping every month.
Filing bankruptcy stops this immediately. It wipes out your credit card balances, stops all collection activity, and allows you the chance to start again. Your credit will take a hit from filing bankruptcy, but the lower your score is, the less filing Chapter 7 will impact your score.
How Bankruptcy Helps You Rebuild Credit
Within a few months of your bankruptcy discharge, you're in a good place to start rebuilding your credit score. You can usually get a secured credit card within six months of your discharge and use that responsibly to re-establish credit before moving on to an unsecured card.
Many people find themselves with a much higher credit score one year after filing than they did before they filed bankruptcy. It's a legal solution that is far more sweeping than any "credit repair" service, and when all is said and done, it costs you far less.
Even though you'll pay court and attorney fees to file bankruptcy, you will get rid of credit card debt you can't afford. This frees up a lot of your money, and you won't be stuck with outrageous interest rates for future expenses once you rebuild your credit.
Find Out More Today
To discuss how to get out of debt with a North Carolina bankruptcy solution, contact the Law Offices of John T. Orcutt today. Call +1-919-646-2654 today for a free no-obligation consultation at one of our convenient locations in Raleigh, Durham, Fayetteville, Wilson, Greensboro, Garner or Wilmington.