Coastal Highway 12 in North Carolina storm damage
Image source: Wunderground.com
If you are a homeowner in Raleigh, Garner or anywhere in Wake or Durham county, be prepared for a bigger insurance bill coming your way soon. In addition to these areas, coastal communities in North Carolina are anticipated to be hit by significant rate hikes by insurers in the coming months. Here's what you need to know.
For coastal regions, property insurance is already high, so the rate hikes are mystifying, but for those farther from the water, the basis for the hikes seem much more questionable. Many homeowners in coastal areas are rethinking whether they can afford to sell their homes and some are already making the move. The rate hikes aren't approved yet, but it's likely that some increase will be approved.
Many have asked North Carolina's Insurance Commissioner Wayne Goodwin to shut down the insurance companies' requests for rate increases. In recent years, more severe tornadoes and storms have resulted in more claims than in the past which is impacting profits. But one has to ask, doesn't this simply balance out the years when few claims are filed?
The overall average rate increase statewide is anticipated to be a little more than 25% (if approved), but in some communities it will be closer to 35%. Beach and coastal areas will bear the brunt of the highest rate hikes. Raleigh and Durham homeowners should see hikes of around 24-25% while other areas of Wake, Durham, Orange and Chatham counties will average 32% increases.
Goodwin has stated he is not in favor of the rate hikes and will have to give them an official yea or nay in February. Mayors in many of the impacted communities say that the insurance industry's numbers are off and that a number of major storm systems have by-passed them resulting in a more modest number of claims.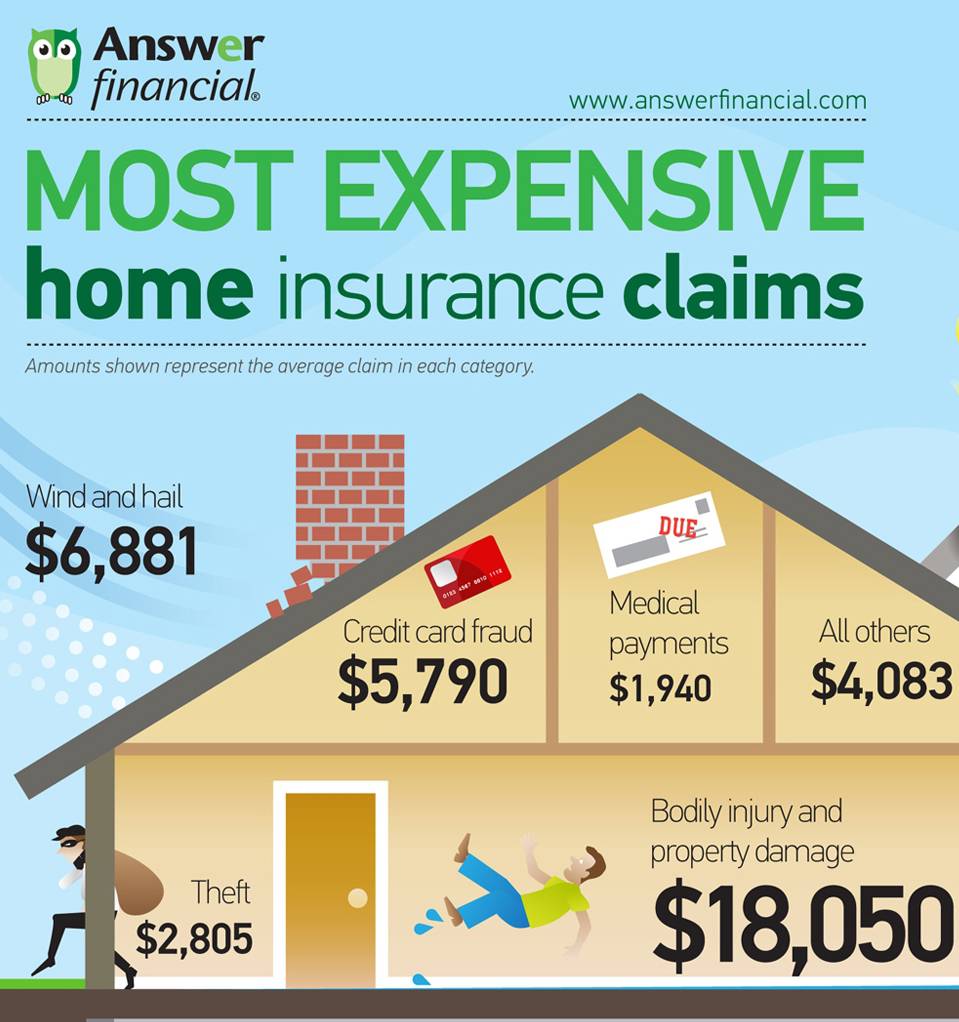 Average cost of homeowner insurance claims
Image source: AnswerFinancial.com
It was just two years ago that insurers asked for a rate increase of close to 20% and in some areas got as much as they asked for, while in others they had only a modest 7% rate hike approved. That rate increase went into effect in July 2013 and it's barely taken hold – and now the industry is back with their hands out asking for more.
In coastal Cartaret County, insurance rates are more than six times higher than other local communities and have doubled in the past eight years alone. This latest rate increase would tack on as much as $1,000 annually to homeowners' insurance policies. For many, that's just too steep a price to pay. But what happens if they can't afford to stay in their homes?
One piece of good news on this front is the passage last week of Senate Bill 1926 - The Homeowner Flood Insurance Affordability Act of 2014 - which will delay some rate hikes associated with flood claims. The bi-partisan bill has moved on to the House for consideration, but the odds of passage seems good. If approved, it could protect NC consumers under the gun by this latest hike.
For those already struggling with the high costs of housing including steep homeowner's association fees, this rate hike may push budgets to the breaking point. If your debts have become unmanageable, contact the law offices of John T Orcutt for a free consultation on getting your finances back in check with a Chapter 7 or Chapter 13 bankruptcy.