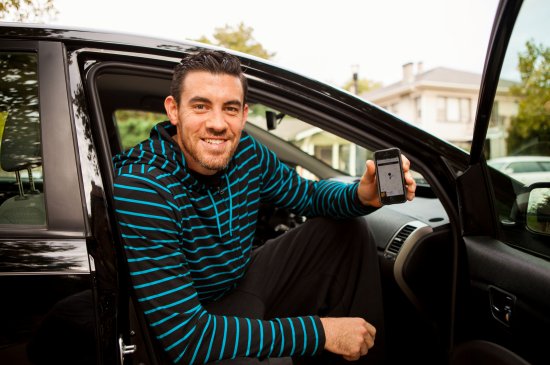 Uber is helping people get cars in exchange for driving for them
Image source: Uber.com
If you are out of work, aren't earning as much money as you need and also have auto issues, that can be a problem. But now, there's an option available to those who need to earn money and need a new car – even for those with bad credit. Car and employment problems can often go hand in hand and produce a vicious cycle – you can't afford a car without a good job and you can't get a good job because you don't have a car. Breaking out of this cycle can mean a real change in your life, but how to make it happen? Taxi alternative company Uber is helping people in this circumstance get car loans. Here's how.
Have you heard of Uber? Essentially, people sign up to be drivers with Uber. Consumers who wish to use the service download the app which lets them see if there are drivers nearby and ping one to come pick them up for a ride. If you take a ride in an Uber car, you typically get an affordable ride in a clean car and pay through the app so no cash changes hands which reduces the risk of theft. It's a great idea that's shaking up the transportation industry.
But Uber (and other similar outfits like Lyft) has faced growth challenges because they don't have enough drivers. To combat this, Uber created a program for those who need a car but have poor credit – and are willing to work to get the vehicle they need. They enlist partner drivers and help them get a new car that they can pay for by working as an Uber driver. Uber partnered with GM and Toyota who are providing the cars and financial institutions who are making loans to new Uber drivers.
Uber is not co-signing the car loans, but is essentially vouching for the drivers to facilitate the loan. They can also fast-track the loan so that new drivers can get their new vehicle within a day or two – much faster than someone with poor credit can usually get a car. There has been some criticism that the loans made to Uber drivers are sub-prime, but if you have poor credit, it's usually inevitable that you'll pay a higher interest rate to obtain financing.
There is also criticism that taking a car through an Uber financing deal makes you an indentured servant. However, you can always walk away from the Uber driving deal and still keep your car so long as you continue to make your payments. On the flip side, even if you only work evenings and weekends driving for Uber, you may be able to use that income to pay your car payment and still work a regular job.
Many Uber drivers also have a day job and only work in off hours. Naturally this deal isn't for everyone – you have to have a clean driving record, be a good driver, like to work with people and be open to having strangers in your car. Most major cities and metro areas have Uber service and, in North Carolina, they include Asheville, Fayetteville, Piedmont Triad and Wilmington in their service areas. You can click here to find out more about driving for Uber.
We're not endorsing Uber or these loans, but are presenting this just as an interesting FYI if you're looking for an out of the box idea for how to get a decent car when you have no other avenue to obtain one. If you are deep in debt and can't pay your bills, contact the law offices of John T Orcutt for a free bankruptcy consultation at one of our convenient North Carolina locations.