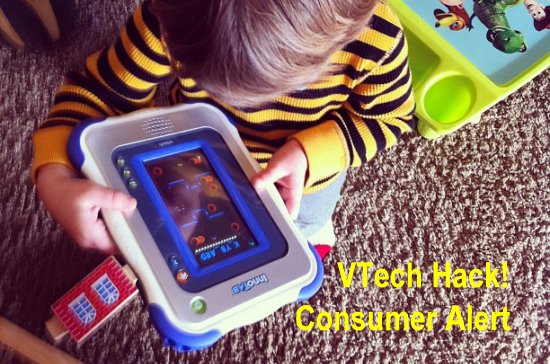 VTech data breach put parent and child info at risk
Image Source: Flickr User Amber DeGrace
A recent hack of Chinese toymaker VTech compromised the personal information of more than 6.4 million children's and 4.9 million parent's accounts associated with their kids' profiles. Experts warn that this digital intrusion could result in identity theft of you or your children if you had devices registered on VTech's online database. Today's consumer alert tells you what to watch out for with the recent VTech data breach.
Details of the VTech hack
The data breach occurred on November 14th and hit the Learning Lodge app store database - this was the portal for VTech digital device owners and users to download apps, games, e-books and other digital content. It was 10 days before VTech became aware that they had been breached. The company conducted an investigation and determined the following information had been accessed:
Adult information
Name
Email address
Password
Secret question and answer for password reminder
IP address
Mailing address
Download history
Kid's information
Name
Gender
Date of birth
The company claims that no credit card information was stored or accessed by the hackers. VTech said that all payments are processed through a secure "third party payment gateway." If your account or your child's account were compromised, you should have received an email from VTech. Other information that may have been obtained – but which is still under investigation – is whether children's photos stored online or chat histories may have been compromised.
What risks are associated with the VTech data breach?
Kidnapping scams
Some hacked information can be used immediately to trigger cybercrime including false kidnappings. The fraudsters could send a photo of the child, along with other personal information, to convince them they had kidnapped the child and that money must be sent for the child to be released.
Identity theft
Because your child has no credit history, you may not be monitoring their credit score account for credit activity. Fraud can go on for years undetected, and the parent may not know until their child goes to open a credit card account once they're 18. That many years of fraud can be difficult to clean up.
Other scams and fraud
Those that steal identities harvest information from a variety of sources and can combine them to assemble profiles to help further their crimes. This can range from physical crimes such as breaking and entering to cybercrimes and other forms of fraud.
How can you avoid issues like this?
When you purchase a digital device such as a tablet for your child, you'll often be instructed to set up a profile for them. First, if that is not a requirement to use the device, simply don't do it. Second, if it is a requirement that you set up a profile to access content and fully use the device, set up a fake profile.
You can use a different name, choose an avatar instead of a photo, list a nonsensical address, etc. Third, any information that is not required, don't fill in, so you avoid trouble. Just be sure to save the fake profile info so you can verify it should you need to at a later date. You may want to set up a separate email address just to use for issues such as these so your primary email account is never at risk.
When it comes to credit card info for a digital device, you may want to purchase a prepaid VISA or another card in a small denomination so that your primary credit or debit cards are never on file and at risk in a data breach. If you choose a reloadable card, you can add money if your child wants to purchase more content but you are never at risk of losing more than the prepaid amount on that card. The more of your personal information – and your child's - that you put online, the more risk you face.
Report fraud activity immediately
If you have been hit with fraud from a data breach, credit card theft, credit card duping or other source, be sure to report the issue to your card issuer immediately. You can also report the fraud to the North Carolina Department of Justice that regularly issues consumers alert to let others know to watch out for similar fraud and breach.
Struggling with debt and looking for a better way? Contact the Law Offices of John T Orcutt for a free North Carolina bankruptcy consultation today. Call +1-919-646-2654 for a free appointment at one of our offices in Raleigh, Durham, Fayetteville, Wilson, Greensboro, Garner or Wilmington.
Resources: