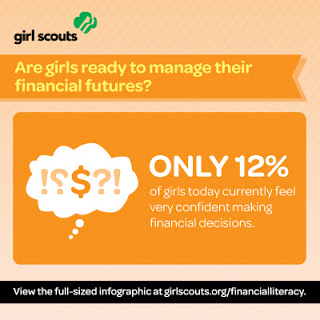 Image Source: blog.girlscouts.org
The motto of the Girl Scouts is "Be Prepared" and the organization is now looking to prepare its young girls for a successful financial future. The lack of financial knowledge among adults is a growing concern for everyone, but very little research has been conducted about financial literacy among younger people, especially young girls.  Think about it. Do you really know how a young child thinks about money matters or finances? Do young children understand the principals of financial responsibility?
To address this knowledge gap, the Girl Scout Research Institute conducted an extensive nationwide survey. The polled over 1,000 girls (ages 8 to 17) and their parents in a unique attempt to gain a better understanding of the young girls' financial literacy knowledge. Researchers also wanted to find out the girls' confidence levels, attitudes towards and experiences in relation to money matters.
The Girl Scouts Organization
The Girl Scouts have been around since 1912. Their founder, Juliette Gordon Low, started the club in Savannah, GA.  It has grown from a small 18 member club to an organization with over 3 million active Girl Scouts. Their motto and the organization's laws are used as a guide when developing goals to enhance the lives of each girl. The organization fully believes that financial literacy should now be included in these goals.
The report, "Having It All: Girls and Financial Literacy," was conducted by the Girl Scout Research Institute. It actually reveals that most girls feel pretty optimistic about their financial futures. This is welcome news for a country that is still recovering from a time of economic uncertainty and turmoil.
The 2009 recession was riddled with slow economic growth and high long-term unemployment rates, many of which still linger today. Many young Girl Scouts watched their parents go through overwhelming concerns about their own financial futures, such as the increasing costs of a college education or the massive levels of student loan debt that come with it. Parents wondered if they would be able to send their young girls to college and, if they did, how in the world could they pay for it?
On top of educational debt, parents also found themselves struggling to pay other bills during the recession. Problems with high interest mortgage loans forced thousands into foreclosure around North Carolina, while others were stretched to the limit with things like medical or credit card bills.
The study did find that despite feeling optimistic about their financial futures, there were areas of concern among the girls. Those who were polled admitted to feeling "unknowledgeable" about some basic financial things, such as using credit cards and establishing a good credit history. In fact, only 12 percent of the girls said they felt confident about making financial decisions.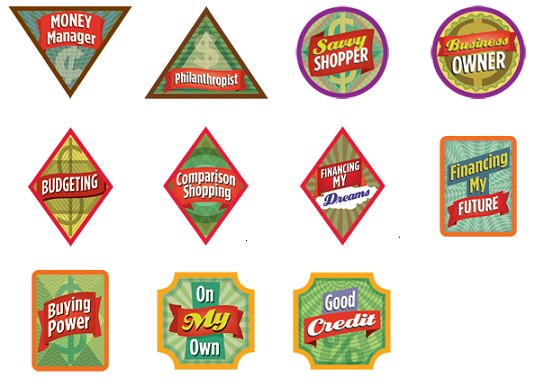 Image Source: facebook.com
Each of the girls surveyed said they were opposed to being in debt and admitted they would like to receive education on how credit actually works in order to avoid going into debt. 
The Girl Scouts organization believes in empowering young girls and, after seeing the results of this study, Girl Scouts NC Coastal Pines made a commitment to provide a solid financial education to its members. They hope to build financial literacy, knowledge, confidence and independence among young girls by providing them with essential knowledge. They plan to focus on all things financial, teaching Girl Scouts how to save money, develop good credit and avoid debt in the future. There are even plans to educate Girl Scouts on ways to give back to society through donations and smart planning strategies when using finance options.

Image Source: girlscoutsofnassaucounty.blogspot.com
Girl Scouts North Carolina Coastal Pines is proud to offer its new financial empowerment program. Overall, they aim to make sure that each girl has an opportunity to build a solid understanding of basic business skills and increase their financial literacy across the board.
If you find yourself struggling with finances and are unable to pay your bills, it may be time to consult a local North Carolina bankruptcy lawyer. Under the professional guidance of a bankruptcy attorney, you will learn about the current bankruptcy laws, how the bankruptcy process works in North Carolina and whether you should file a Chapter 7 or a Chapter 13 bankruptcy.
Dedicated to helping residents of North Carolina find the best solutions to their debt problems. Don't waste another day worrying about your debt. Call +1-919-646-2654 today to schedule a free initial consultation to discuss your bankruptcy options.