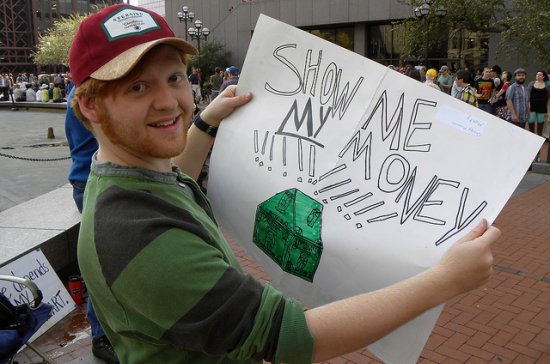 Median income level changes could cause bankruptcy issues
Image source: Flickr user Fibonacci Blue
The US Census Bureau collects information not just on population but also on economic realities of people across the country. From this information, they compile and release statistics that inform many government and judicial processes. One of these is the state median income that determines whether or not you pass the means test for bankruptcy and if you're eligible for Chapter 7 bankruptcy – the form of bankruptcy that offers the most complete debt relief.
For cases filed through October 31st of this year, the median income was $41,333 for a single household, $52,419 for a household of two, $55,855 for a family of three and $67,116 for a family of four. But these numbers have shifted downward for bankruptcy cases filed from November 1st and going forward until the next adjustment. The new numbers are, respectively, $40,412 for a single household, $51,847 for two, $56,782 for three and $69,370 for a family of four.
For single and dual households, this represents a tightening of the means test standards that can make it harder for over-indebted and deserving consumers to get the relief they need. It's a drop of more than $900 for a single person and of nearly $600 for a household of two. For those that are close to the median income level, it will force them into the means test rather than allowing them a direct path to meaningful, and much-needed, debt relief.
What these income changes could mean to you
If your income is at or below the median income for North Carolina, you can definitely file Chapter 7. If your income is above the new median income guidelines, even by $1, you are forced into the Means Test. This examines your income, expenses, assets and debts to determine your eligibility for Chapter 7. The means test may indicate that you can afford your bills when you may, in fact, not be able to realistically afford them.
When the median income drops, this makes it harder on those who truly can't afford their bills to get the debt relief they need. For those that aren't eligible for Chapter 7, they may try for Chapter 13 debt reorganization, but these plans can be difficult for those close to the median income levels. Chapter 13 plans require you to pay in all your income to your creditors and how they calculate this can quite easily exceed your means to pay. For lower income families, Chapter 13 is rarely a viable option.
These new income levels will be in place until March 31, 2015 and there is no telling whether they will move up or down more. If you are deep in debt and your income is just at or below the median income level, filing now before it moves again could greatly benefit you. To find out more about the means test and which chapter of bankruptcy you're eligible for, contact a reputable North Carolina attorney like the experts at the law offices of John T Orcutt for a free consultation.