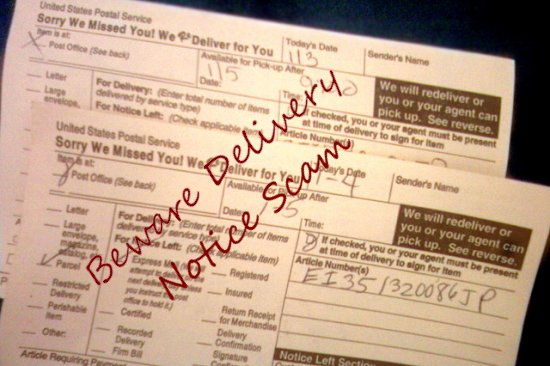 Beware a new scam using package delivery notices
Image Source: Flickr User Matt
As we head into the shopping season for the Fall holidays from Halloween to Thanksgiving then Christmas (or whatever winter holiday you celebrate), you may be expecting packages and other deliveries. But several new scams are using delivery notices to try and take advantage of consumers, so you should be on the lookout in coming weeks to protect yourself against these would-be fraudsters. In today's scam alert, we take a look at some of the delivery notice scams that have surfaced recently in North Carolina.
#1 Green Connex Delivery Notice
If you find a notice stuck to your door saying that Green Connex tried to deliver a package, it's very likely not something that you ordered. The card asks you to call to schedule your delivery, but it's a sales lead. Then, when you call the number on the "delivery notice," you're told that it's a bottle of detergent. But there's no free lunch (and no free detergent). You are then subjected to a hard sell for a water test and inspection that then turns into another hard sell for a water treatment system. Just toss the card and don't call – that "free" detergent could cost you thousands of dollars…
#2 Email Delivery Notice
This con starts with an email that purports to be from the United States Postal Service. The email says you missed a USPS delivery. The email tells you that you need to print out a form that's attached to the email and take it to your local post office to get your package. This is a perfect holiday season scam because you will be getting unexpected packages from friends and family so may not realize it's not a real delivery. If you click on the "form" or link that's attached, you will unleash a virus or malware onto your computer. Never click on unknown links or attachments plus the USPS doesn't send emails like this.
#3 New Neighbor Fake Door Delivery Notices
This scam is more common when you move into a new place. A delivery notice is left that says "we missed you" (or something similar) and asks you to call to schedule. When you call, you may be asked questions about how many people live there, if you have a security system or other personal questions. Some of these scams are trying to find out if you're a good target for burglary because you live alone and have no security system. Some will try to sell you a security system and still others will watch to see how long the notice stays to see if you're out most days, and they can break into your house.
How to avoid being taken advantage of by a delivery notice:
Don't ever click on links or attachments in emails that you're not certain are legitimate.
Don't respond to a delivery notice on your door that looks like it was mass printed, not handwritten.
Don't respond to a notice that isn't from a major carrier like USPS, FedEx, or UPS. If a notice looks dicey in any way, Google the phone number provided before you call and see if it's tagged as a scam.
If you do call, and the person asks you questions instead of offering to schedule the delivery, hang up.
Rest assured that if it's a legitimate delivery, the carrier will attempt to deliver even if you don't call. Most carriers attempt delivery at least three times.
Always err on the side of caution and be suspicious. There's no downside to being careful when it comes to things like this.
If you were taken advantage of by a scammer, be sure to notify the North Carolina Department of Justice (ncdoj.org) and report the activity.
Contact the Law Office of John T. Orcutt for a free North Carolina bankruptcy consultation today. Call +1-919-646-2654 to schedule an appointment at one of our offices in Raleigh, Durham, Fayetteville, Wilson, Greensboro, Garner or Wilmington.