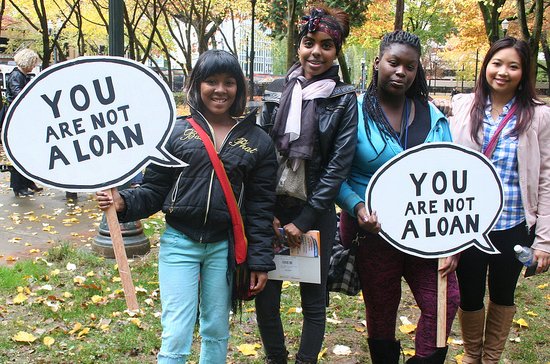 Don't fall for a student loan scam
Image Source: Flickr User Sarah Mirk
Many companies specializing in student loan debt relief offer little benefit to consumers and charge high fees to boot. Some of these companies charge upfront fees plus monthly fees for services that consumers could do on their own.
The National Consumer Law center stated, "Student loan debt relief companies can easily cross over into practices that violate key consumer laws." The aggressive advertising and direct contact marketing approach often tricks consumers into signing on for services they don't need.
NerdWallet and advocacy group Student Debt Crisis recently conducted a study, and the findings were stunning. Not only are the marketing tactics of these companies far-reaching, but at-risk groups and minorities are more likely to be taken in by their promises.
Study Findings
Here are some key numbers from the survey of student loan borrowers on student loan "debt relief" companies.
#1 Roughly 10% of student loan debtors paid for services from debt relief companies.
#2 The average amount paid for student loan debt relief was more than $600 per borrower.
#3 About 60% of student loan borrowers report seeing ads for student loan debt relief.
#4 Roughly 44% report that a student loan debt relief company has contacted them directly.
#5 Minorities are far more likely to sign up with student loan debt relief companies.
How to Avoid Being Ripped Off Over Your Student Loans
The services offered by student loan "debt relief" companies are things you can do for yourself by directly contacting your student loan servicer. The problem is that the government's system is convoluted, you can have multiple servicers, and it's not a cohesive system.
But make no mistake—you don't need a company to handle things for you, and you can do it yourself for absolutely free. Here are some steps to take if your student loan debt is overwhelming and you need help.
Start by contacting your loan servicer(s), and tell them you can't afford your student loan payments. Here are some options to consider.
Request deferment to temporarily stop the payments until you get back on your feet.
Apply for Income Based Repayment that cuts your payment to 10% of disposable income.
Find out about student loan discharge via bankruptcy if you're permanently disabled.
You can consolidate loans to get yourself out of default, but that's a one-time opportunity.
Find out about Public Service student loan forgiveness plans to get out of debt.
If you're contacted by a "debt relief" company offering to reduce your student loan payments, just know this: there is nothing that these companies can do for you that you can't explore yourself by talking to your loan servicers and applying for available programs.
These companies have no inside track, no special access, and all the information they have is available to you via your loan servicer or Federal student loan websites. You should NOT pay someone to do what you can do for yourself.
Bankruptcy and Student Loans
If you cannot afford your student loans and are also struggling with other debts, bankruptcy might help solve your debt dilemma. In some cases, bankruptcy can be used to discharge student debt, particularly if you have a chronic illness or permanent disability.
But even in cases where bankruptcy can't discharge your student loans, it can help you shed other debts to free up money to help pay your school debt. To find out more, contact the Law Offices of John T. Orcutt for a free North Carolina bankruptcy consultation.
Call +1-919-646-2654 now for a no-obligation bankruptcy consultation at one of our convenient locations in Raleigh, Durham, Fayetteville, Wilson, Greensboro, Garner or Wilmington.
Resources: