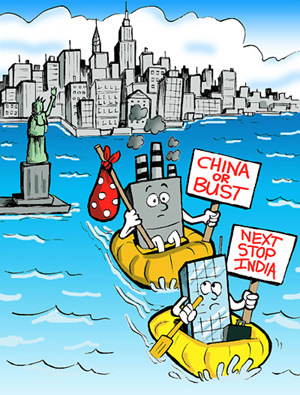 Image Source: fellowshipofminds.wordpress.com
Most adults in North Carolina find themselves worrying about job stability and unemployment at some point. Even those who have held a steady job with the same company for the last 20 years have probably experienced moments of concern since the recession hit. But what about North Carolina's younger adults? What's their outlook on North Carolina jobs and how do they see their employment futures panning out? Let's take a look.
Generation Opportunity conducted in in-depth and statewide online survey involving North Carolina's young adults. They polled 500 North Carolina adults, each from 18 to 29 years old, between July 27 and August 14, 2012. What they found was that most young adults fear for their financial futures. They are specifically concerned about jobs and the U.S. economy.
When asked about their outlook on the country's jobs, for example, 74 percent said they were worried for the future. The main concern among North Carolina's young adults is the high number of American jobs being shipped to other countries, mainly China. In fact, when asked specifically about China, 76 percent felt the country was a danger to the U.S.; 48 percent viewed China as an economic threat and 28 percent said they were both an economic and military threat.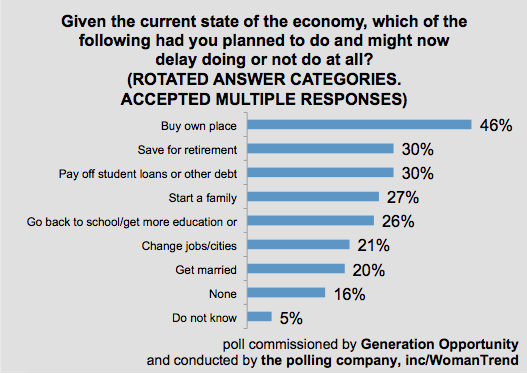 Image Source: generationopportunity.org
In addition, they were asked if they had an opinion as to why America was losing so many jobs to foreign countries. The responses were:
76 percent blamed cheaper wages in foreign countries
42 percent said that high United States business taxes drove businesses overseas
31 percent believe that too many regulations and red tape face businesses in the United States
25 percent felt there was simply no opportunity for opening and growing a new businesses in America today
North Carolina's Young Adults are Concerned
For a generation that often gets accused of not paying attention, North Carolina's younger adults seem to have a firm grasp on most current affairs. In fact, 68 percent said that, in an effort to fix the country's financial problems, they would lower taxes to restore and expand job growth in America. Some additional information Generation Opportunity found was that:
78 percent of young adults in North Carolina plan to cast their ballot in the next Presidential election
A dismal 37 percent feel that today's leaders have the interests of young Americans at heart
65 percent were concerned by the negative statements and tiresome drama in Washington today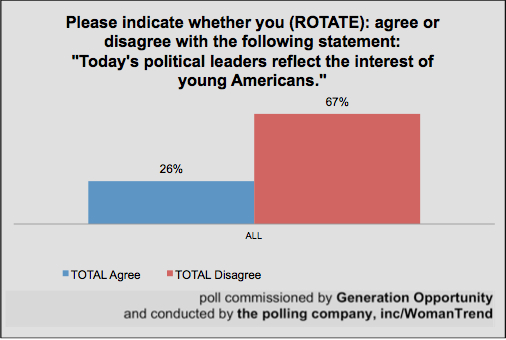 Image Source: generationopportunity.org
How Do North Carolina's Young Adults View the Economy?
This is where things took a sharp, and concerning, turn among most of the NC participants. When they were asked if they thought the country was headed in the right direction, only 30 percent said yes. In fact, most were so concerned about the financial future of the country that 56 percent were not even sure that America would still be a global leader five years from now. In addition, a shockingly low 24 percent said that the economic policies of Washington were helping North Carolina's younger generation.
Putting things in perspective, the participants were asked to rank what they believed to be the greatest threats for the security of America right now. They listed the following:
The national debt is the main threat facing America
The country's energy dependence is another major threat
The U.S. debt owed to foreign countries is a huge concern
All in all, North Carolina's young adults have the same fears and concerns that trouble older adults. North Carolina's unemployment rate is still above 8 percent, leaving us with the fifth highest number of jobless in the country. Jobs are a real concern for most people right now. This is an especially a frightening time for the long-term unemployed in North Carolina, as federal emergency unemployment benefits are set to expire after June 30.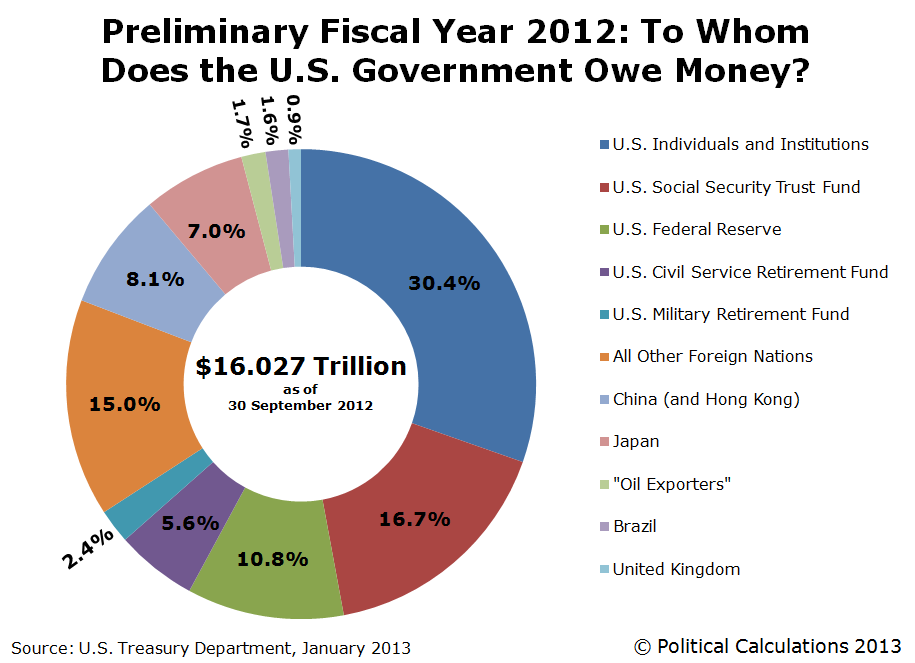 Image Source: mygovcost.org
Whether you are young or old, all North Carolinians have a universal desire to work hard, earn a paycheck and take care of their families. When there are no jobs or job opportunities, you can't make ends meet. Once you fall behind on your bills, with no income to rely on, it can seem almost impossible to get back on track.
If you're drowning in debt and struggling to get by, it may be time to consider filing for bankruptcy protection. A Chapter 7 or Chapter 13 bankruptcy could be your best option. By scheduling a consultation with an experienced North Carolina bankruptcy attorney, you'll learn how current bankruptcy law can help you finally get the fresh start you deserve.
Dedicated to helping residents of North Carolina find the best solutions to their debt problems. Don't waste another day worrying about your debt. Call +1-919-646-2654 today to schedule a free initial consultation to discuss your bankruptcy options.