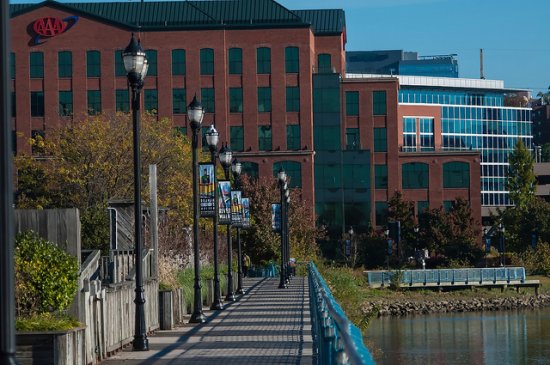 Law Offices of John T. Orcutt opens new location in Wilmington
Image Source: likeaduck
A new poll just ranked Wilmington as the best city in North Carolina. The Law Offices of John T. Orcutt agrees that the city is one of the best places to be and will open a new location on Front Street in Wilmington next month. Find out what the new Public Policy poll shows about NC opinions and more about our new office launching on March 1, 2017.
The Top Cities in North Carolina
The poll question on the favorable outlook on NC cities by North Carolina residents was last asked in 2012 and then again in 2017. Back in 2012, Wilmington tied with Raleigh. But in 2017, Wilmington was tops across the board and seven points ahead of second-place Raleigh. The next cities that made the list were Asheville at #3, Winston-Salem at #4, Greensboro at #5, and Chapel Hill at #6.
Rounding out the top 12 are Cary at #7, Charlotte at #8, Greenville at #9, Carrboro at #10, Durham at #11, and Fayetteville at #12. Compared to the 2012 poll, Raleigh dropped by eight ranking points, but the big decrease was Charlotte with a drop of 12 points. The poll also rated out differentials on city preference by political party and presumed the HB2 debate might have affected some city ratings.
The Top Donuts and BBQ in the State
Another interesting element of the poll were questions on food, sports, and vacations. Of the almost 1,000 NC residents surveyed, 42% said they prefer Eastern style barbecue while 31% prefer Western. What's most shocking of all is that 27% aren't sure which is their favorite. When it comes to donut preference, Krispy Kreme was king taking in 64% of the votes. Just 23% chose Dunkin Donuts as their favorite.
Vacations at the beach are the big choice for North Carolinians at 58% with just 33% choosing the mountains instead. Another divisive subject was snow, with 24% of residents wishing for more snow and the same percentage wishing for less. The majority, at 50%, are pleased with the levels of snow in our state as it is.
What Teams Do Locals Love?
The Atlanta Falcons and Denver Broncos rated lowest with just 2% choosing them while Green Bay and the Giants were also as bad low at 3%. The Patriots, Steelers, and Redskins all rated between 4% and 5%. The highest percentage of approval was, no surprise, the Carolina Panthers with 44% of participants choosing them as favorites and 23% of those polled choosing not sure or another team.
For college sports, the order of preference of NCAA teams in the state is UNC at the top followed by Duke, NC State, and Wake Forest. Duke fans gave an overwhelming approval rating to Mike Krzyzewski, and UNC fans ranked Roy Williams almost as good. Even Grayson Allen made the poll with a 28% unfavorable and 12% favorable rating.
Coming Soon to Wilmington
The Law Offices of John T. Orcutt are pleased to announce their new office location opening March 1 in Wilmington on the fifth floor of 2 North Front Street in the Historic District. If you're drowning in debt and not sure where to turn, North Carolina bankruptcy might be the solution you need. You can reach our Wilmington office by calling (910) 920-0902.
For NC consumers, Chapter 7 and Chapter 13 bankruptcy are available. Chapter 7 is best for those with few assets or less than $35k equity in their home (or $70k for a couple filing jointly). Chapter 7 can discharge all credit card debt, personal loans and medical bills, some past-due income taxes. Chapter 13 bankruptcy sets you up on a repayment plan to catch up on past-due balances on your mortgage or auto to prevent foreclosure or repossession. Both bankruptcy chapters can stop foreclosure.
To find out more, contact the Law Offices of John T. Orcutt for a free bankruptcy consultation by our Wilmington attorneys. Call +1-919-646-2654 now for a free appointment at one of our convenient locations in Raleigh, Durham, Fayetteville, Wilson, Greensboro, Garner or Wilmington.
Resources: