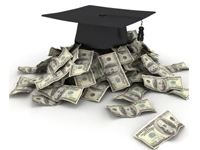 Have you heard the story of Edith Oquendo? Unfortunately, it's a common tale. According to The Huffington Post, Edith Oquendo wishes she could file for bankruptcy. "When Oquendo, a resident of Kissimmee, Fla., left her job as a photographer at Walt Disney World after she developed carpal tunnel syndrome, she decided she would go back to school "to better" herself. She heard about Full Sail University, a Florida-based, for-profit college specializing in the entertainment industry with many courses online. Oquendo enrolled, hoping to learn about new photo technology and design programs like Photoshop. To pay for it, Oquendo took out a private student loan. A few years later at age 46, she's $33,000 in debt with no degree. She's struggling to make payments since she also has fibromyalgia, is on disability and is unable to work as much as she'd like.
'I wish I just could go back and undo everything,' Oquendo said. 'Knowing then what I know now, I would have never taken out the student loan.' Oquendo had to stop taking classes when her own health deteriorated. At the same time, her husband was diagnosed with a rare autoimmune disease and needed a liver transplant. If she could file bankruptcy to erase the private student loan debt she owes to Sallie Mae, she would. But because of a 2005 reform law, private student loans cannot be discharged in bankruptcy, except in extremely rare cases. Oquendo isn't alone. Today, 2.9 million Americans have private student loan debt, owing about $150 billion and representing 15 percent of all student debt."
And so while it's recommended that you try your very best to fund your collegiate dreams with $0 in student loans, the reality is very different. More and more would-be students are choosing to tally tremendous student loan debt in order to get their higher education. But, as HuffPost reveals, student loan debt can't be discharged in bankruptcy without a "substantial hardship," and student loan companies rarely, if ever, settle.
Unfortunately, using credit for education is not necessarily the smartest move either. If you're using credit cards to subsidize your child's college education or even your own, you're likely to learn a hard and fast lesson of debtor economics: credit card interest rates are on the rise, even as limits drop, and without assistance, thousands in tuition placed on plastic, can quickly snowball into a budgetary situation that fails you every single time.
However, unlike student loans which require "a substantial hardship" to be liquidated in bankruptcy, credit card debts, even those charged for educational purposes, can most easily be dealt with in the debt dissolution solutions that a bankruptcy affords.
In short, when it comes to curing credit card debts—for educational expenditures or otherwise—bankruptcy is in a class by itself.
So, if you are one of a growing number of American men and women who have mounting credit card debts related to educational expenditures and other budgetary blights, we know how to help. If you live and study in North Carolina and credit card debt has gotten you down, it's important to understand that a qualified bankruptcy attorney can teach you the right ways to proceed on the path to a better financial future. In fact, the bankruptcy professionals at the Law Offices of John T. Orcutt offer a totally FREE debt consultation and now, more than ever, it's time to take them up on their offer. Just call toll free to +1-919-646-2654, or during the off hours, you can make your own appointment right online at www.billsbills.com. Simply click on the yellow "FREE Consultation Now" button.
http://www.huffingtonpost.com/2012/08/14/private-student-loans-bankruptc...