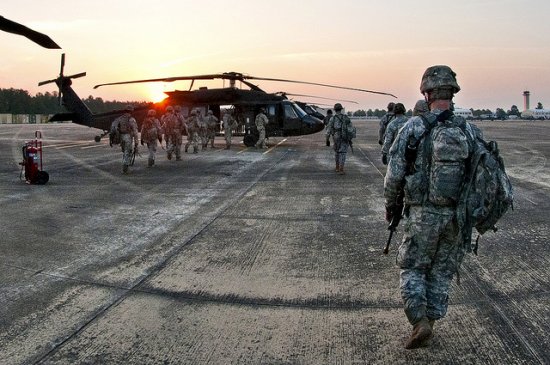 North Carolina Department of Justice announces help for military members scammed by SmartBuy
Image source - Flickr User The U.S. Army
If you've ever driven by Fort Bragg, Camp Lejune, Seymour Johnson Air Force Base or the other military locations in North Carolina, you'll notice the proliferation of businesses around the installations that specifically cater to and seek out military members and their families. Some of these businesses are legit, but others are there to take advantage of our men and women in the armed forces. One of these that was doing harm has been pursued by Attorney General Roy Cooper and will now pay nearly $7 million in damages.
What is SmartBuy?
SmartBuy is a chain of stores based out of Fayetteville that sets up shop near military members and set up its practices specifically to target military members and their families for their outrageous schemes. The company used outrageous mark ups (often 300% or more) and aggressive sales tactics to talk military members and dependents to sign financing deals at over 200% interest, far in excess of what NC law allows.
For example, if a flat screen TV should cost $800 and is marked up 300% to $2,400 with an interest rate of 200%, a 12 month payment would be $455 and would end up seeing you pay $5,448 for a TV that should have cost less than $1,000. This is an approximate calculation, but shows how devastating combining unreasonable markups with usurious interest rates.
Were You Taken Advantage of by SmartBuy?
In North Carolina, Smart Buy did business near Fort Bragg and Camp Lejeune. In addition to SmartBuy, firms Rome Finance Company, Colfax Capital Corporation and Culver Capital were involved in the settlement that North Carolina and a dozen other states negotiated with the shady electronics dealer and finance firm. The settlement will put an end to $92 million in debt owed by 18,000 consumers – most of them service members.
In North Carolina, more than 1,300 service members are part of the $6.8 million settlement AG Cooper pursued and won. That's an average of $5,200 per affected person. The company preyed on younger military members and set up auto deduct (allotments) to take money directly from soldiers' paychecks. This caused huge financial problems for many soldiers. Not only are the remainder of any existing debts relieved, but the consumers get to keep their overpriced electronics. Additionally, all collections activity must cease related to these debts.
What's even better is that any negative repercussions to soldiers' and other consumers' credit reports from SmartBuy and its associated financing companies will be shown as "paid as agreed." If you have a judgment against you from SmartBuy or one of its companies, these will also be vacated. The companies and its owners are also banned from doing any future consumer lending business by the Consumer Financial Protection Bureau and in accordance with the terms of the settlement.
If you are a service member or other consumer taken advantage of by SmartBuy and their cohorts, contact the North Carolina Department of Justice. At the law offices of John T Orcutt, we have experience helping service men and women get out of financial problems so that their debt doesn't put their military career at risk. Contact us now for a free consultation.