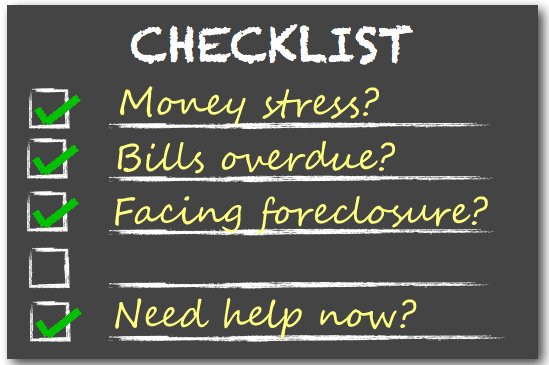 Bankruptcy Checklist
Image Source: Flickr User Mufidah Kassalias
Knowing whether bankruptcy is a fit for you can be a complicated question. While you will want to consult with a North Carolina bankruptcy attorney as well, this checklist can help you decide if you're a good candidate for a free consultation to discuss this meaningful debt relief option. Review the checklist and then see the description of the two primary consumer bankruptcy chapters below for more information.
You may be a candidate for bankruptcy if you answer yes to three or more of these checklist questions.
► Are debt collectors calling you at home, at work, or on your cell phone?
► Are you behind on your mortgage payments for your home?
► Have you been threatened with foreclosure on your home or received a foreclosure notice?
► Are you behind on your mortgage payment, and you have no equity or negative equity?
► Do you have no equity and a second mortgage plus late mortgage payments?
► Are you behind on your auto loan payment?
► Have you been threatened with repossession of your vehicle or has it been repossessed?
► Are you more than 30 days behind on some your bills?
► Have you been sued over debt or been threatened with lawsuits?
► Do you owe medical bills you can't afford to pay?
► Do you need medical care or prescriptions that you can't afford?
► Do you owe income taxes that have been outstanding for two years or longer?
► Are you behind on student loans?
► Have you been garnished for student loans or are you in default?
► Are you struggling to pay child support or other support obligations?
► Are your credit cards maxed out?
► Are you living paycheck to paycheck?
► Is every source of debt you have maxed to the limit?
► Are you charging necessities to credit cards?
► Have you borrowed from friends or family?
► Have you taken (or asked for) an advance on your pay from your employer?
► Is your debt affecting your ability to focus on your job?
► Is your debt affecting your personal relationships?
► Have you lied about debt or finances to your spouse or partner?
► When you think about your debt, do you feel depressed or hopeless?
► Would it take more than five years to pay off your unsecured debts (aside from student loans)?
► Do your financial problems make it impossible for you to plan for the future?
What type of bankruptcy is best for you?
There are two types of bankruptcy available to most consumers – Chapter 7 and Chapter 13. Most anyone with a job and steady income can file Chapter 13. To file a Chapter 7, you have to show that you either have a low income or that your debt significantly outweighs your ability to pay. Below is a quick explanation of each so you can see the differences and which might work best for you.
Chapter 7
This is called a liquidation bankruptcy because the goal is to discharge your unsecured debts. It takes just a few months from start to finish. In this bankruptcy chapter, medical bills, credit cards, and most income taxes older than two years can be discharged. If you had a foreclosed home or repossessed auto with outstanding balances remaining, those old balances will be wiped out. If you are current on your mortgage, you can protect $35k in equity in North Carolina if you're single and $70k if you're married. You can also usually protect your car in bankruptcy so long as it's not a luxury vehicle.
Chapter 13
This is called a wage earner's plan and gives you time to catch up on past due balances and also wipe out a portion of your unsecured debt like credit card bills and medical debt. You will have to make your current payments on your mortgage or car loan then you pay installments on a three to five-year plan to catch up on your past dues. At the end of your repayment plan, you should be caught up on the back balances and remaining balances on your unsecured debt will be wiped out. This is a more challenging process but is a fit for some situations.
To find out more about the benefits of North Carolina bankruptcy, contact the Law Offices of John T. Orcutt. Call +1-919-646-2654 today for a free consultation in Raleigh, Greensboro, Fayetteville, Garner, Wilson or Durham.