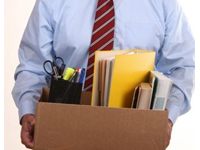 No matter who you talk to, from economic experts to financial forecasters, all sides of a very political spectrum seem to agree that real job growth is a distant goal. Unemployment remains steady just below double-digits in many parts of the nation, and while the economic recession is a thing of the past, layoffs remain a clear and present danger.
Well, never fear, joblessness assistance is here, as your friends at Forbes magazine (and John T. Orcutt) present six quick tips for the recently terminated:
(1) Get a new e-mail address.
If you've been laid off, it's time to put on a new online calling card. As Forbes puts it, "You need a professional e-mail that's your first and last name. Godaddy.com is one place that can help you set this up. You may want a simple web site, too. It should have your bio, contact information and links to your work if applicable."
(2) Alert the masses about your recent job passing.
One lesson of the recent recession is that everyone you know has fallen on hard times. Don't be afraid to tell as many people as possible that you've moved on from your old job and that you're on the market for a new position. Who knows? It's entirely possible that a friend of a friend on Facebook is hiring and you'd be a perfect fit for the new hire.
(3) Revamp your resume.
The key to an unbeatable new job is an unbeatable new resume, highlighting your latest and greatest job-seeking attributes. CLICK HERE for more on how to have an ready-to-send resume.
(4) Join LinkedIn, Facebook and Twitter, or pretty-up your public profile.
According to Forbes, "Online networking and rah, rah self-promotion through social media channels is a little awkward for many of us, but with practice it gets easier. 'Social media is one of the easiest ways to accomplish several key factors that help people land jobs,' Miriam Salpeter, a job search and social media coach, owner of Keppie Careers and author of Social Networking for Career Success: Using Online Tools to Create a Personal Brand, says. 'There's no easier way to showcase what you know to a broad audience of potential colleagues, networking contacts, and hiring managers than via using social media.'"
(5) Buy a snappy business card.
Giving out a printed business card is apparently not yet a gesture of the past. Go online or to your local office supply store to pick a theme and place your mobile phone number, email, LinkedIn address, Twitter handle, and/or website on a brand new business card. Once printed, these pocket-sized calling  cards can be indispensable at provided invaluable contact information anywhere you are, with any potential employer you want.
(6) Consider your financial options.
If you're like so many average Americans experiencing job woes and searching for a way out of the throes of debt and financial despair, knowing a qualified bankruptcy attorney is the first best step to help you or any unemployed person—regardless of age, education or experience—conquer their creditors and face their financial fears, yielding the right kinds of support, information and insights—at a low cost— for a viable and secure future. 
The bankruptcy professionals at the Law Offices of John T. Orcutt offer a totally FREE debt consultation and now, more than ever, it's time to take them up on their offer. Just call toll free to +1-919-646-2654, or make your own appointment right online at www.billsbills.com.
Source: http://www.forbes.com/pictures/eeli45hllk/10-things-to-do-when-you-lose-...