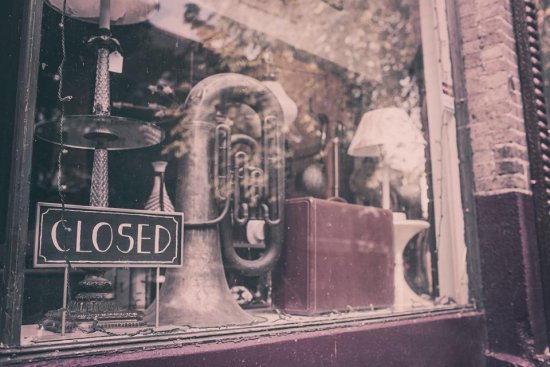 Business closing? What you need to know
Image Source: StockSnap.io
If you're a small business owner and you're in over your head with business debt, bankruptcy may be the way out if you cannot turn your business around. Did you know, according to Bloomberg, 80% of entrepreneurs fail within 18 months of opening their first business? Not only that, but John Maxwell writes in Falling Forward that most entrepreneurs fail, on average, 3.8 times before they succeed. If your business is struggling, know that you're not alone, and it's not the end of the world.
Why Do Small Businesses Fail?
The Small Business Administration (SBA) tracks business success and failures and advises that the average failure rate for new small businesses has been unchanged for the past 20 years and are consistent across all industries. No matter what niche you're in, you have the same chance of failing. That can be tough to hear.
Some of the Reasons Small Businesses Fail Include:
#1 Starting without a reason – Some people start a business because they're tired of their boss or lose their job. Even if you have the skills needed to do the work, you also need business management skills, a purpose, and a path to success. Starting a business on a whim can lead to failure.
#2 Starting without a plan – Deciding to start a business without a plan is much worse than starting a road trip without a map. It's more like starting a road trip with almost no gas, bad tires, no sense of direction, and no plan to get where you're going. Poor planning defeats many small businesses.
#3 Starting without money – You must have some money to make money, in the case of most small businesses. You need to finance in yourself whether it's equipment, marketing, transportation, or other needs. Undercapitalized businesses are prime for failure. That's a fact.
#4 Starting in a crowded market – If you see a bunch of other businesses doing something, you may think you should jump in too, but if the market is saturated, you can go under based on a poor market share. You need a niche and the ability to differentiate yourself or your business could fail.
#5 Failing to understand your customer – You can have a good idea, but if you don't know who will buy or use your product or service, you can't market to them and make a profit. Even if you have something they want, if you don't understand their needs and how to reach them, your small business could fail.
What Can You Do If Your Business Is Failing?
It's scary to lose a job but even more frightening to lose a small business when that's your sole bread and butter. Most small businesses do not fail overnight. It's a gradual process, but you can see the decline happening. If you know your business is going under, there are some options available.
#1 Find a way to turn it around
Perhaps you can salvage your small business. Maybe you need a mentor in the same field or some management advice. Maybe you need marketing tips to reverse your decline. If it's a matter of throwing good money after bad, you might want to give it up unless you're sure your business can be salvaged.
#2 Sell it
In some cases, you might be able to sell your small business. Some companies specialize in buying up businesses that are at risk of closure, such as this company that buys mobile home parks. For almost every business niche, there is a potential buyer. Selling could be an option to save you from failure.
#3 Close it down and try again
If your business is failing, but you don't have a lot of debt associated with it, you may be able to shut it down and then try again later without any financial backlash on your personal finances. Closing neatly may be possible in a service industry where you haven't invested heavily in equipment or assets.
#4 File bankruptcy then try again
One final option is to file bankruptcy to shed your business debt and try again later. Depending on how your small business is organized, you may need to file business bankruptcy but, in many cases, filing personal bankruptcy will extinguish your business debts and protect your personal assets.
To find out more about small business bankruptcy in North Carolina, contact the Law Offices of John T. Orcutt. Don't get stuck dealing with debt collectors, get debt relief now! Call +1-919-646-2654 now for a free consultation at one of our convenient locations in Raleigh, Durham, Fayetteville, Wilson, Greensboro, Garner or Wilmington.
Resources: