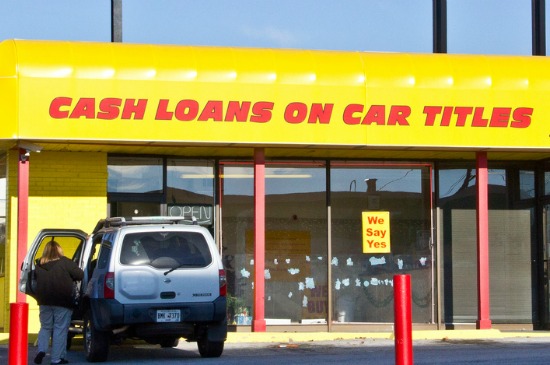 Title loan company sued by NC Dept of Justice
Image Source: Flickr CC User Ken Teegardin
Title pawn shops have been illegal in North Carolina for 15 years now, but that hasn't stopped predatory lenders online or in nearby states from making shockingly high-interest loans to consumers in need. If you're a Garner, North Carolina consumer who took out an online pawn, you should know about the shady tactics one lender engaged in which resulted in the North Carolina Department of Justice banning them from the state.
AG Cooper Announcement
Attorney General Roy Cooper's office announced that the state filed a lawsuit against a lender that does business under the names Autoloans, Car Loan, Sovereign Lending Solutions, and Title Loan America. AG Cooper's office accused the lender of charging an average of 257% interest on loans ranging from $100 to $2500. This greatly exceeds the state cap of 16% interest on unlicensed lenders like these.
Cooper wrote in the announcement, "Families who need a little extra money to deal with an illness or a layoff deserve a fair loan, not a rip-off. North Carolina has long made illegal these expensive loans with excessive interest rates, and my office is here to enforce the law for consumers."
Ban on Company Activity
In addition to filing the lawsuit, Wake Country Superior Court Judge Donald Stephens barred the company from making additional loans, collecting on existing loans, repossessing vehicles, selling cars already repossessed or placing liens on any vehicle owned by a North Carolina resident.
In the lawsuit, Cooper requested a permanent ban on the illegal lending activities, as well as cancellations of all previous loans and liens, and refunds to North Carolina consumers who had already paid them. The lawsuit lists roughly 700 loans taken out by NC consumers at rates varying from 161% up to 575% interest.
Additional Accusations
In addition to usurious interest rates well above the state-mandated cap, the company is accused of misstating interest rates, not providing written copies of title loan agreements, and not disclosing the terms and conditions of loans. Many of the loans involved interest-only payments for 11 months then a large balloon payment which was more than the original amount borrowed.
When borrowers couldn't make the payments, their vehicles were illegally repossessed thanks to the GPS trackers that the company required borrowers to place on their vehicles. Now that Judge Stephens has signed the cease and desist order, the AG's office has contacted local towing companies and auction houses to advise them not to do any business with the lender.
Did You Take out a Loan Like This?
If you're a Garner, NC consumer – or live anywhere in the state – and you took out a title pawn loan from one of these companies, either online or via one of their out-of-state locations, you should have received a letter from the AG's office.
If you have not received a letter but have been affected by this lender (operating under the names Autoloans, Car Loan, Sovereign Lending Solutions, or Title Loan America) contact the North Carolina Department of Justice for help protecting your vehicle.
To find out more about unloading debt you can't afford to pay, contact the Law Offices of John T. Orcutt. We offer free Garner bankruptcy consultations – just call +1-919-646-2654 now for a no-obligation appointment. Come see our North Carolina bankruptcy experts at one of our offices in Raleigh, Durham, Fayetteville, Wilson, Greensboro, Garner or Wilmington .
Resources:
Roy Cooper NC DOJ Announcement