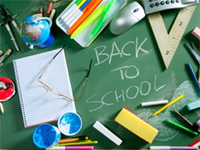 Cutting back on spending when you're facing (or currently in) the bankruptcy process—even if you're a parent—is a mandatory part of the whole debt dispensation ordeal. In short: if you are to be successful in (and out) of your bankruptcy, you must attempt to cut back, even if you have kids, if only to begin making better spending decisions for you and your family, just as you're wiping away your burdensome debt through your bankruptcy.
Nevertheless, even if you're currently considering bankruptcy or have already filed, you may also be feeling pressure to stock up on those necessary back-to-school items.
According to the folks at The Huffington Post, "With the new school year right around the corner, many families can expect to shell out hundreds of dollars on new school supplies, clothing and other gear. Back-to-school shopping will cost the average family with kids in kindergarten through 12th grade $688.62 this year. The largest chunk of that money will be spent on new clothing, according to a Parenting.com survey."
Well, take a break from your bankruptcy for a few back-to-school deals from HuffPost sure to not break the bank, as a number of retailers are offering special sales, super deals and special giveaways that can help ease the burden of back-to-school shopping.
Deals and steals include:
Free Haircuts At JCPenny
Just in time for the school bell, JCPenny Hair Salons are giving kids in kindergarten through 6th grade free haircuts. Throughout the month of August, all you have to do is call and schedule an appointment at any JCPenny location that has a salon to cash in your kid's free cut.
Discounted Binders At Staples
Costly school supplies can leave parents in a bind. But for every old binder you recycle at your local Staples, you'll get a $2 discount on a new one.
$100 Gift Card With Computer At Apple
Apple products are the hottest catches on the computer market. And now, your little technophile can have all his or her new toys as Apple is giving away $100 gift cards with the purchase of a qualifying Mac computers. Want an iPad instead? You can also score a $50 gift card with the purchase of the hottest Mac tablet in town.
Flu Shot And Gas Savings At Kmart
Feeling sick this back to school season? Until August 12, Kmart is offering free flu shots to shoppers who spend over $100, giving your littlest family members a fighting chance against this winter's inevitable viral visitors.
Free Sunglasses With Purchase At Aeropostale
Your kid's future's are so bright…they gotta wear shades. And this August shoppers at Aeropostale will receive 30 percent off as well as a free pair of sunglasses with any purchase. All you have to do is mention the promotional code "BTSS" at checkout.
Free Xbox Or $200 eGift Card With PC At Dell
Got a gamer in your household who also needs a new computer? Not to be outdone by their competition at the Apple store, Dell is giving out a free Xbox or a $200 eGift card with the purchase of any personal computer.
If summer deals aren't enough to score your kid's necessary school supplies, it may be time to learn more about the benefits of a bankruptcy filing. Get educated about your options with the bankruptcy attorneys at the Law Offices of John T. Orcutt who offer a totally FREE debt consultation. Just call toll free to +1-919-646-2654, or check them out online at www.billsbills.com.
Source: http://www.huffingtonpost.com/2012/08/10/back-to-school-shopping-free-ha...