Tips for a great Thanksgiving on a cut-rate budget.
Image source: Wired.com
Next week is Thanksgiving and that means your family is expecting a big holiday meal. But if your money is tight, you may be wondering how you can pull off the feast without spending a fortune on food. With unemployment still high and the ravages of the recession not behind us, many families will struggle to put together their holiday meal for Thanksgiving this year. For those that are skimping this holiday season, but are still planning on hitting the Black Friday sales, money saved on turkey and the trimmings can translate into more to spend on the day-after bargains.
Here are some tips for prepping a quality Thanksgiving for North Carolina families on a budget:
#1 Weigh Your Bird Options
The most expensive option for a turkey is a large, fresh, never frozen, name brand bird, but this can cost big bucks. Instead, think about how many you have to feed and consider a smaller frozen bird or, if you have a smaller family, skip the whole bird concept altogether and get a turkey breast. This is easier to cook and won't leave you fatigued with too many leftovers.
A full-sized fresh Turkey is the most expensive option for your holiday meal.
Image source: NationalGeographic.com
#2 Be a Guest, Not a Host
One of the cheapest ways to enjoy a quality Thanksgiving meal on the cheap is to be a guest rather than a host. If you can score an invite to the home of a friend or family member, you can likely get away with bringing just a side dish or dessert and still enjoy a full dinner. If you're the usual host, ask someone who regularly guests at your home to play host this year and promise to swap off with them next year…
#3 Give Your Time, Get a Meal
No matter how tight your budget is, there's always someone worse off than you. Volunteering to help those in need will make you feel better about your circumstances. Volunteer at a soup kitchen or shelter for Thanksgiving and serve dinner. You'll serve and dine with those in need and if you've got kids that are frustrated with your family finances, this can give them a much-needed reality check.
#4 Go Non-Traditional
While some people are all about the turkey, others don't care for heavier holiday fare. If you have a family of picky eaters or your kids turn up their nose at the holiday bird, do something fun, non-traditional and more affordable. Pick up a couple of $5 carry out pizzas and a Redbox movie or two and enjoy a relaxing day bonding with your family. No one gets stuck cooking or cleaning and who doesn't love pizza?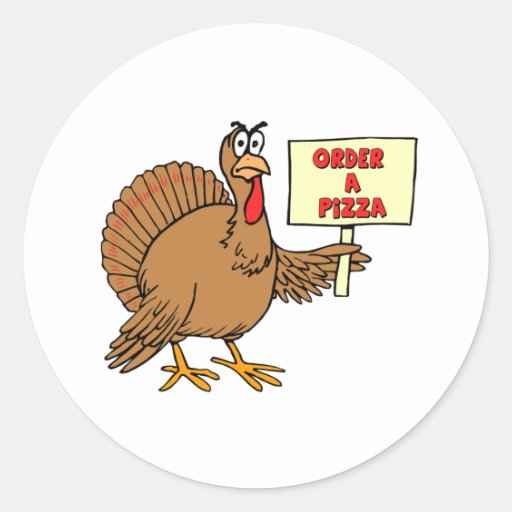 Consider a non-traditional Thanksgiving to cut costs.
Image source: Zazzle.com
#5 Host a Potluck
If you've got friends and/or neighbors that are going through financial troubles as well, why not host a potluck? If you have a several families pitch in $10 worth of grub, you'll quickly end up with a feast worthy of the holiday and enjoy some great company as well. If everybody pitches in, no one will have to shell out a lot and you'll still be able to have your traditional Thanksgiving.
#6 Call Up a Food Bank
If your finances are at a breaking point and you are struggling to feed your family, don't let pride stand in the way of putting meals on the table. North Carolina has a number of food banks throughout the state that provide holiday meals baskets as well as everyday food for those that are struggling to get by. If you need help with your Thanksgiving meal, call your local resources now to get on the list for holiday assistance.
If your finances are a struggle every day - if you're being hounded by calls from debt collectors - if you don't know where to turn - contact the law offices of John T Orcutt for a free consultation about whether a North Carolina bankruptcy can help you get a financial fresh start.