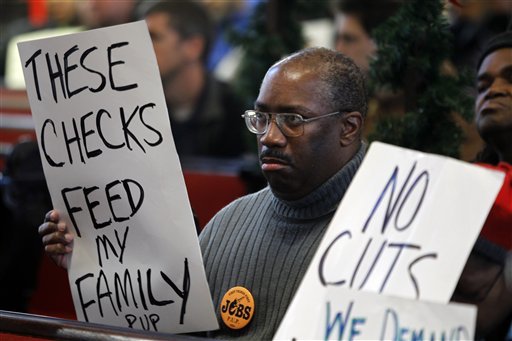 Image Source: cleveland.com
As you know, North Carolina's federal unemployment benefits are now a thing of the past. As of yesterday, the sweeping changes to North Carolina's unemployment laws took effect and, in addition to axing federal unemployment compensation, the state also made some major cuts to its own benefit program. One of the biggest questions now being asked by North Carolina's jobless community is…why?
When lawmakers first began tossing the idea around, considering a move that would disqualify the state from receiving federal unemployment compensation, they claimed putting an end to federal benefits would help to pay down the state's debt. Like a lot of other states in the nation, North Carolina borrowed massive amounts of money from Washington after their unemployment fund ran dry during the recession. In an effort to pay some of that money back, state officials decided to cut federal benefits and increase taxes for businesses in February. They hoped the cuts would accelerate paying back the $2.5 billion debt owed to Washington.
The problem, or at least one of the problems, with that plan is that North Carolina still holds the nation's fifth-worst jobless rate. Once the state made changes to its own unemployment plan, they immediately became ineligible to receive federally funded Emergency Unemployment Compensation. As if it weren't bad enough to cut the long-term jobless benefits, they also decided to make cuts to average weekly benefits on all state claims. The unemployment insurance reform bill, which Governor Pat McCrory signed in February, takes action to cut state benefits for the jobless in two brutal ways. First, it reduces the amount of weekly benefits for some people. Second, it reduces the total number of weeks that those benefits are paid. Talk about a double whammy.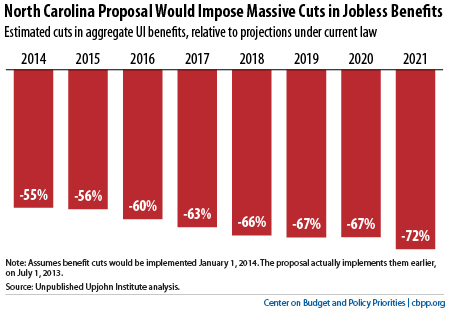 Image Source: cbpp.org
Why Cut State Unemployment Benefits?
Thanks to the state unemployment compensation changes, if you are unemployed and receiving benefits, the new legislation reduces the maximum weekly unemployment payment you can receive by 35 percent. That means that, no matter how much money you were being paid at your last job, you will no longer be able to collect a maximum weekly payment of $535. Your new maximum payment for weekly unemployment benefits in North Carolina is $350. While that cut will impact many jobless North Carolinians, the average unemployment payment in the state is currently $292.60, which is almost 20 percent lower than the new maximum payment. Unfortunately, the cut in maximum weekly benefits is not be the biggest problem you'll face.
The scariest part of this unemployment nightmare lies in the new reduction of the length of time you can collect benefits. If you are currently receiving unemployment through the state program, your potential benefit period instantly went from 26 weeks to 20. That's the shortest duration of unemployment benefits in the nation…for a state whose unemployment rate is the fifth-worst in America. And you're not even guaranteed to receive 20 weeks of benefits. Under these new unemployment laws, the number of weeks you can collect benefits will fluctuate from 12 to 20, depending on the unemployment rate for the state. According to the sliding scale, when North Carolina's unemployment rate is higher than 9 percent, claimants can receive a maximum number of 20 weeks. Once the unemployment rate falls below 9 percent, the number of weeks you can collect benefits dwindles as well.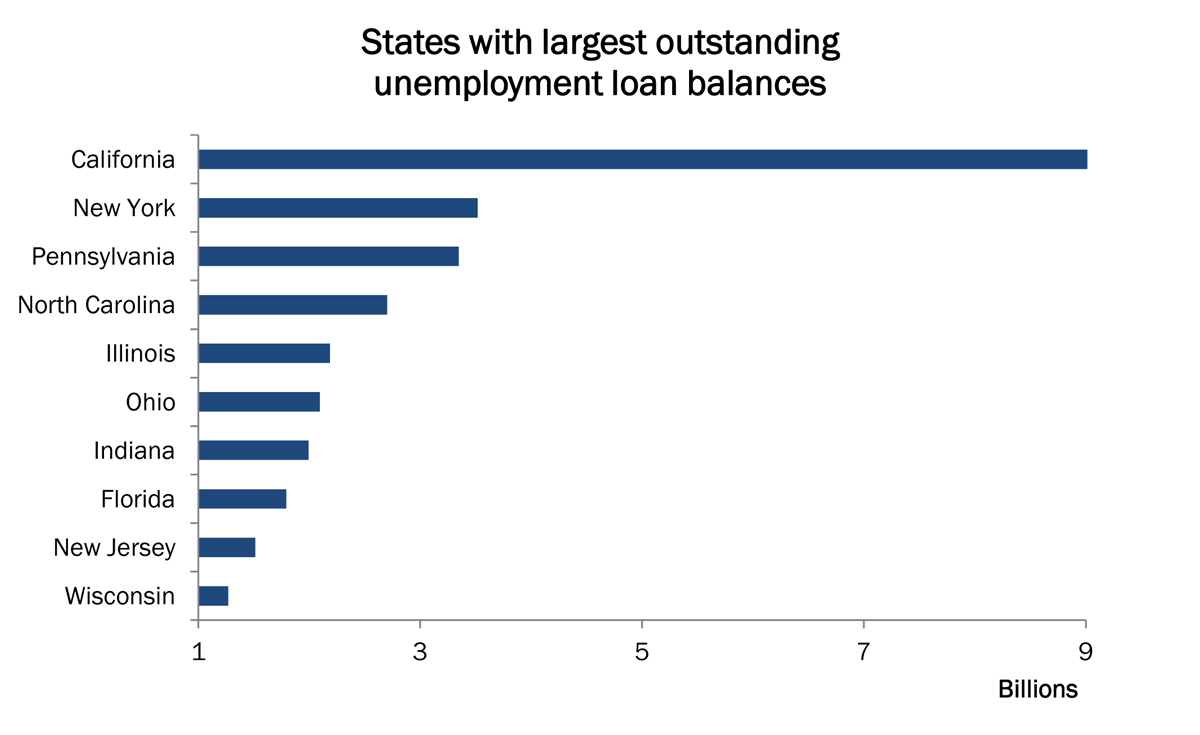 Image Source: ui.uncc.edu
North Carolina Stands Alone
While it's true that other states cut some of their unemployment benefits this year or restricted eligibility requirements, none of those states added in cuts to weekly benefit amounts. In an effort to help the jobless in the state, many labor groups and the state NAACP have attempted to at least delay the benefits cuts until January, but lawmakers have refused to budge. They say that putting off the inevitable will only allow the state's debt to continue growing until 2014. And while it's never good to be in debt to Washington, no one seems to be providing any acceptable answers to the long-term jobless in North Carolina.
If you're one of the millions of North Carolinians who depend on those unemployment benefits to put food on the table or to keep the lights on in the house, you're no doubt wondering what your options are now. If you are in financial turmoil, it may be time to consider bankruptcy as an option. Without unemployment benefits coming in each week, the last thing you need is undue stress from constant creditor harassment. Filing a Chapter 7 or Chapter 13 bankruptcy may be able to help provide you with a fresh start. Instead of doing nothing, speak with an experienced North Carolina bankruptcy attorney as soon as possible and discover how bankruptcy can benefit you. 
Dedicated to helping residents of North Carolina find the best solutions to their debt problems. Don't waste another day worrying about your debt. Call +1-919-646-2654 today to schedule a free initial consultation to discuss your bankruptcy options.