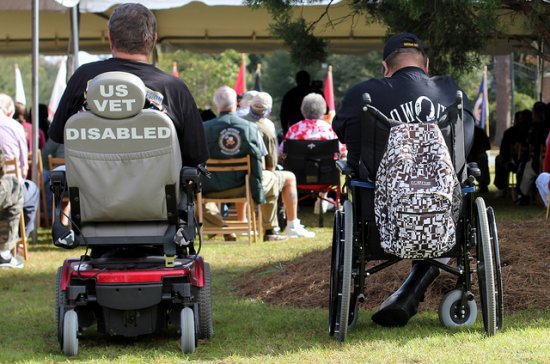 How does bankruptcy affect your VA benefits?
Image source: Flickr user North Charleston
If you receive VA benefits and are also dealing with a pile of debts you can't pay, bankruptcy may be a viable solution. Veteran's Administration benefits are paid out to those military members that suffered a partial or total disability related to their service in the armed forces. VA payments can also be made to spouses of a deceased service member, dependent children or their dependent parents. VA monetary benefits are intended to compensate for the economic loss caused by the disability. These benefits are rated from 10% up to 100% based on the amount of disability the VA determines you have.
Tax and bankruptcy treatment of VA benefits
The good news is that VA benefits are tax-free, so if this is the sole source of your income, you shouldn't also be dealing with an unbearable tax burden. But being on a fixed income can also mean that if your bills ever get out of control, it can be very hard to recover because your income won't be increasing. Bankruptcy considers your VA benefits on the Means Test to determine if you qualify for a Chapter 7 bankruptcy, but won't count as part of your bankruptcy "estate."
Your bankruptcy estate is the money that your creditors can access to satisfy your debts. Your Trustee will consider these funds hands off. The only problem you may encounter is if you have money in the bank that is a blend of VA benefits and other sources such as unemployment, wages, pensions or money from family.
This is called co-mingling of funds (this simply means mixing). If your VA benefits are commingled, the bankruptcy Trustee and creditors can tap into whatever is in that bank account. To best protect yourself, not only in case of bankruptcy but also against potential garnishments, is to have your VA benefits direct deposited to an account where you never deposit money from any other source. The same goes for your social security benefits if you're also receiving this form of money from Uncle Sam.
Chapter 7 and Chapter 13 and VA benefits
Chapter 7 bankruptcy is a liquidation where most of your unsecured debts can be wiped out to give you a clean slate. By contrast, Chapter 13 buys you extra time to catch up on your bills. Depending on the type of debts you have and whether you're behind on your mortgage or car payments, you'll want to think carefully before deciding which chapter to file. A reputable bankruptcy attorney will take a look at your circumstances and help you decide what's best for your unique financial situation.
If you are current on your mortgage and don't have equity in excess of North Carolina's homestead exemption amount, Chapter 7 offers more complete debt relief. It can wipe out credit card balances, medical bills, old store cards, collection accounts and some past due tax balances. With a Chapter 13, you get on a three to five-year repayment plan to catch up on your bills. For those that aren't actively earning wages and are subsisting on a fixed income, Chapter 7 may be a better option for you.
If you're a disabled veteran struggling to pay bills, don't let this situation linger. Contact the law offices of John T Orcutt to find out how a North Carolina can benefit you. We have convenient locations in Raleigh, Durham, Greensboro, Wilson, Garner and Fayetteville. Be sure to ask about our zero down bankruptcy specials. Call +1-919-646-2654 for more information today.