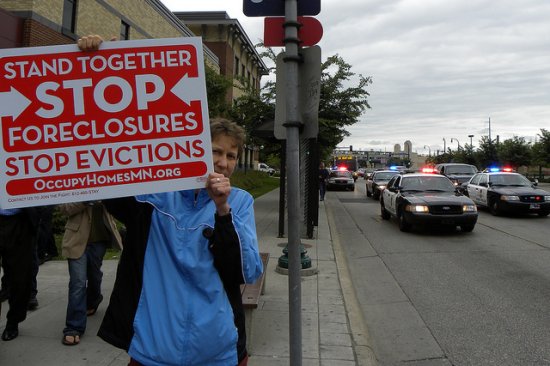 If you were foreclosed on in North Carolina, you may be owed money!
Image source: Flickr user Fibonacci Blue
There are only 12 days left to file for a payment recovery if you are one of the thousands of North Carolina consumers that were victimized by Ocwen Financial Corporation in a wrongful foreclosure scheme. Nationwide, Ocwen has been ordered to pay back $125 million to homeowners they foreclosed on improperly. North Carolina's Attorney General Roy Cooper says, "People who lost their homes to faulty foreclosures now have a chance to recovery some money. Don't delay if you think you're eligible to get money back."
Only a little more than one-third of the consumers in North Carolina that are owed money back from Ocwen have applied to get their restitution. Ocwen is the largest non-bank mortgage servicer in the US and was accused of a bunch of financial misconduct, including:
Robosigning foreclosure documents with no verification of the accuracy of the information
Charging improper fees
Denying loan modifications for false or misleading reasons
Not honoring loan modifications already in process from prior servicers
Who is eligible for participation in the Ocwen settlement?
To get a cash payment from the settlement program, you had to have had your loan serviced by Ocwen or associated servicers including Litton Loan Servicing, Homeward Residential Holdings or American Home Mortgage Servicing, at the time of your foreclosure. Your loan servicer is the company you wrote your checks or sent payments to. In addition, you must also meet these standards:
You must have made at least three payments on the loan
You must have used the property as your principal residence or intended to
The property must have been a one to four unit residential property
The unpaid principal balance must have been no more than $729,750
Your home must have been foreclosed on between January 1, 2009 and December 31, 2012
If you still have a loan serviced by Ocwen, you may also be eligible for a modification under the terms of the settlement if you're underwater. If you're not sure if you're eligible for this option, call (800) 337-6695 to ask about it.
How to get your settlement money
If you're eligible to get a settlement, you should have been sent a form by Rust Consulting, the company that's administering the settlement, but if you've moved (which is likely, since you were foreclosed on), the form may have missed you. If you didn't receive a claims package, you can get claims information online here. If you're not sure if you're eligible for a settlement, call (866) 783-5382 to find out if you are. Settlement amounts are expected to be between $679 and $1,235. Payments will be made by early 2015 at the latest.
Over the years, hundreds of North Carolina consumers filed complaints about Ocwen to do with their handling of fees, payment errors, loan modifications, collections practices and improper foreclosures. If you were one of the thousands of homeowners that may have been the victim of foreclosure fraud by Ocwen or one of their associated firms, please file for the restitution you're owed. And if you've been taken advantage of by any other creditor, contact the North Carolina Department of Justice to file a complaint.
If you're in over your head with debt you can't afford to pay, contact the law offices of John T Orcutt to find out about permanent debt relief options to get you the peace of mind you deserve.