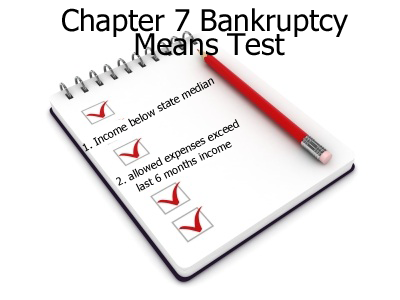 Image Source: 1800debtrelief.com
After new bankruptcy reform laws were passed in 2005, something called a "means test" was implemented. The idea behind the test was to close the legal loopholes that allowed people with higher incomes to file for Chapter 7 bankruptcy. The means test, simply put, is a mathematical tool that is used by the court to decide whether you qualify for Chapter 7 or Chapter 13 bankruptcy protection. So, what do you need to know about the means test?
If you want to file for bankruptcy protection in North Carolina, both you and your income must be evaluated to determine your eligibility. The test is also used to determine which form of bankruptcy you qualify to file. The overall purpose of the means test is to keep people from filing bankruptcy when they do not really need to. Essentially, lawmakers presume that if you fail the means test, you are trying to abuse the system.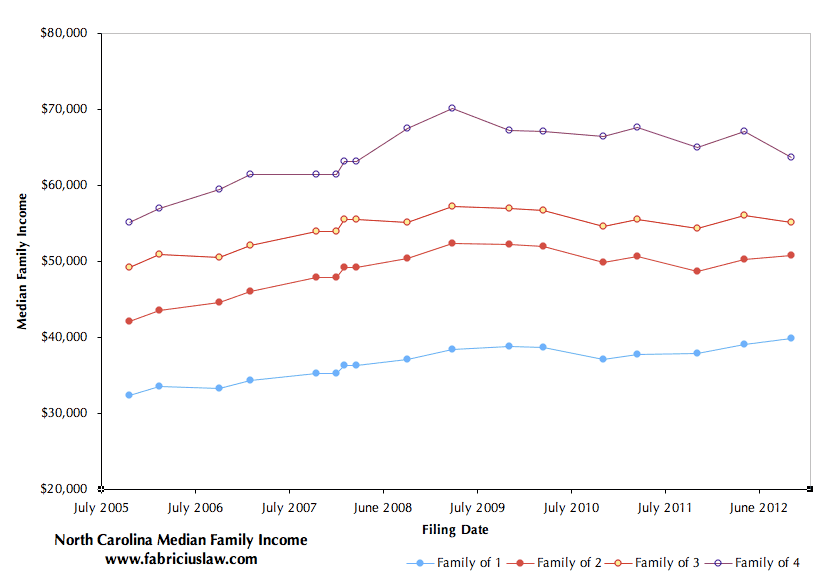 Image Source: eastwakebankruptcy.com
What is examined during the means test?
Understanding the means test and the income that is evaluated during the process is very important. The court will take the following items into consideration during the test, specifically looking at the six month period before you filed for bankruptcy:
The number of people living in your household: This will include both dependents and non-dependents who are currently living with you
Your household income from all sources: The resources examined can include your salary, retirement or pension funds, any payments or financial support received from family members, financial support from other people living in your household, child support, 401K or retirement funds, rental property income, investments, etc. The means test can take any source of income into consideration
Income taxes you paid
Your monthly mortgage or rent payment
Payments made on automobiles
Monthly payments owed for household items, such as furniture or appliances
Average expenses for child care. This includes costs for day care, pre-school or babysitting
Average monthly expenses for healthcare insurance. This includes healthcare insurance fees, disability insurance or term life insurance
Average monthly out-of-pocket expenses for healthcare. This includes insurance co-payments, co-insurance, deductibles and prescription costs
Average amount of money you contribute to charity each month
Any child support or alimony you pay on a monthly basis
The costs of a Chapter 13 bankruptcy
The means test will take other expenses into account as well. For example, the court will examine how much you spend on food, clothing and utilities each month. However, these figures will be based not on numbers that you provide, but on either Internal Revenue Service or Census guidelines that match your household size or income.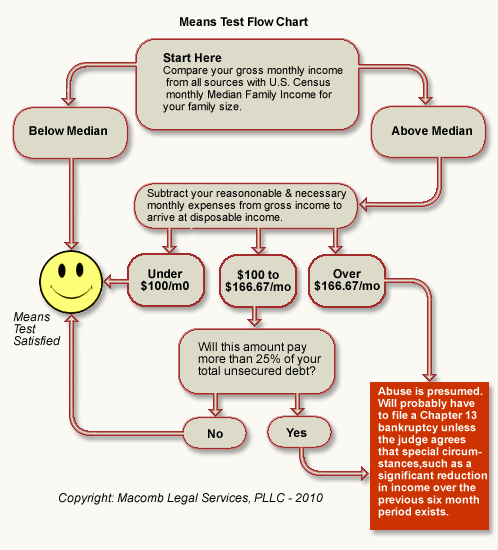 Image Source: macomblegalservices.com
The means test consists of three separate tests to evaluate your eligibility for bankruptcy. To better understand the process, let's look at each test separately.
The first test will compare your average household income during the six month period before filing for bankruptcy protection to the median household income of North Carolina. This test is often called the Current Monthly Income (or CMI) test. If your household income is less than North Carolina's median household income, you automatically qualify for Chapter 7 bankruptcy protection. On the other hand, if your average household income or CMI is higher than the median income for NC, you must go on to take the next test.
The second test evaluates your monthly expenses and guideline expenses. They are deducted from your CMI or average household income and the results equal your disposable monthly income (or DMI). If your household DMI is less than $117.08, you qualify for Chapter 7 bankruptcy. If your DMI is above $195.41, you must file for Chapter 13 bankruptcy. However, if your DMI is between $117.08 and $195.41, you must take the next test.
In the third and final test, your DMI is compared to your unsecured debt. This is your credit card debt, healthcare bills, personal loans, etc. This is where things can get a bit confusing. If your DMI multiplied by 60 (or five years) would allow you to pay 25 percent of your unsecured debt, you must file a Chapter 13 bankruptcy. If you do not have enough to pay 25 percent of your unsecured debt, you qualify for Chapter 7 bankruptcy.
While the means test has a simple purpose, it is quite complex. If you are considering filing for Chapter 7 or Chapter 13 bankruptcy, it is vital to speak with an experienced North Carolina bankruptcy attorney.
Dedicated to helping residents of North Carolina find the best solutions to their debt problems. Don't waste another day worrying about your debt. Call +1-919-646-2654 today to schedule a free initial consultation to discuss your bankruptcy options.