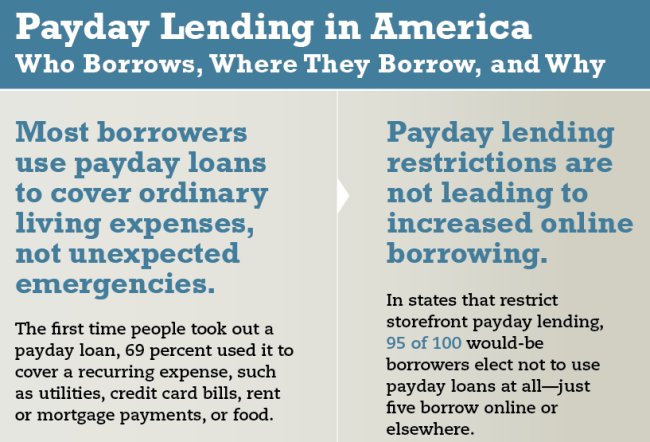 Image source: PewState.org
The North Carolina legislature is once again considering allowing store front payday lending in our state. Senate Bill 89 has been proposed to open the state back up to predatory lending by the easy cash establishments. North Carolina experimented with payday loans between 1997-2001 and had cleared out all of the storefronts by 2005 after the usurious interest rates were found to be abusive to borrowers. So why then is this predatory lending practice being reconsidered?
Currently, no loan making in excess of 36% annual interest rate is allowed in North Carolina and this seems more than adequate for lenders to profit. Republican Senator Jerry Tillman and Democrat Clark Jenkins are co-sponsoring a bill they say will fill a need for short term cash-strapped North Carolinians. Tillman gives this example for a prospective borrower:
"They say, 'I got a job and no credit,' or 'I got a job and bad credit, and my car broke down. That man's got to be able to get his car fixed by Monday or he loses his job."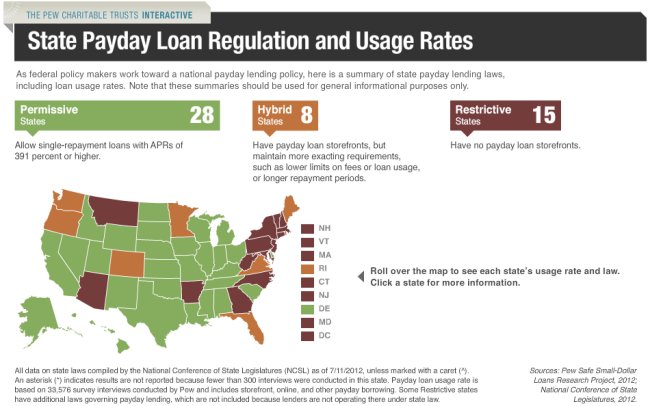 Image source: PewStates.org
Tillman believes a loan like this job-saving $300 for a "reasonable" $45 in interest charges over two weeks could be helpful to consumers. But for many borrowers, rather than a hand up, payday loans turn into a financial smack down. Unfortunately, the laws against payday lending in North Carolina haven't stopped internet lenders from preying on cash strapped consumers in NC. Even making internet loans over the 36% APR is illegal in NC, but many of the online cash stores are located out of the country so it's hard to enforce the local laws.
Here are the fine points of the proposed legislation (Senate Bill 89):
Borrowers could access up to $500 in funds
Funds would be secured by post-dated checks
Loans could last as long as 35 days
Fees could be as much as 15%
No more than one loan can be outstanding at a time
North Carolina Attorney General Roy Cooper has come out against the bill and with good reason. A recent study by Pew Charitable Trusts shows that 2/3 of payday loan borrowers aren't using them for car breakdowns or one-off emergencies, but rather for ongoing expenses such as food and rent. 
The bill also includes a leniency plan where the consumer can come to the lender and declare an inability to pay. In this case, the debt would be capped and divided into four equal payments to be paid on the next four paydays. However, while this sounds well and good, it's optional for the lenders to offer this and so why would they?
Studies indicate that payday loans increase the odds that consumers will end up in Chapter 13 or Chapter 7 bankruptcy. Luckily bankruptcy laws do allow the inclusion of payday loans when filing bankruptcy, but if they are the tipping point for consumers already struggling with debt, why allow them back in our state?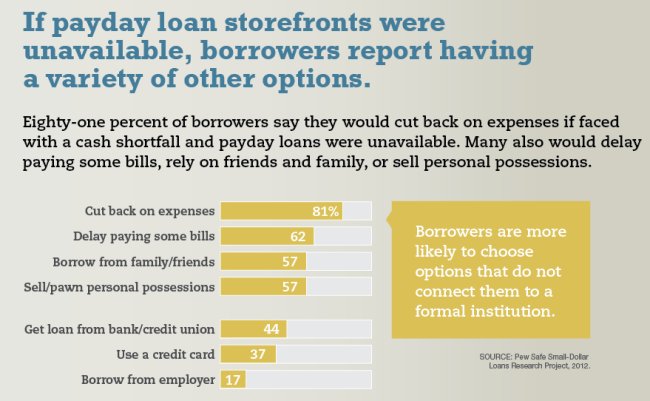 Image source: PewStates.org
If you're mired in debt, you can get help from a reputable bankruptcy lawyer. Greensboro NC consumers, Chapel Hill, Raleigh and Durham borrowers can all be helped, even if some of your debts are illegal internet payday loans. Contact a reputable North Carolina bankruptcy attorney now for help with your debts. And if you want to oppose the proposed Senate Bill 89 to allow payday loans back into our state, contact your state senator today.
Dedicated to helping residents of North Carolina find the best solutions to their debt problems. Don't waste another day worrying about your debt. Call +1-919-646-2654 today to schedule a free initial consultation to discuss your bankruptcy options.