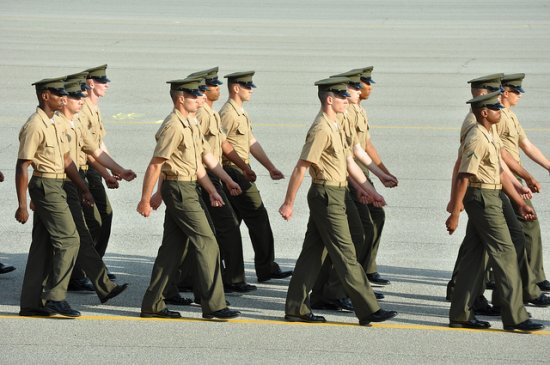 Catfishing couple accused of conning Marines in Wilmington
Image Source: Flickr User VirtKitty
Wilmington, North Carolina is proud of its Marines and other military members that live in the area, and this alert goes out to service members, but Marines, in particular, that might be targeted by a catfishing scam online. Two internet con artists were sentenced in Wilmington this week for targeting Marines not only here in Wilmington but all across the country. Here's what you need to know so you can protect yourself and your hard-earned money.
Two Perpetrators Convicted in Marine Catfishing Case
Last week, a federal judge in Wilmington sentenced Jones Tyler Martin and Hailey Tykoski for their online activities targeting Marines. Martin was sentenced to five years in prison while Tykoski was saddled with probation rather than a prison term for her role in the scam. Martin was ordered to pay more than $117,000 of restitution to his victims. Tykoski must pay back more than $42,000 to victims. The prosecutors in the Martin-Tykoski case say the pair targeted soldiers all across the country including Marines right here in Wilmington, North Carolina.
What Did the Perpetrators Do to Defraud Marines?
Between 2013 and 2015, prosecutors in this fraud case alleged that Tykoski was just one of several female accomplices that helped Martin defraud soldiers. Reportedly, Martin was the mastermind of the online fraud. Tykoski and other female co-conspirators set up profiles on internet dating sites to target Marines. Once they had hooked the Marines, they catfished them and convinced them to take out personal loans at Navy Federal Credit Union. In addition to taking the borrowed funds, Martin and his sidekicks engaged in identity theft that left the Marines deep in debt and without the love they wanted.
How Can You Protect Yourself From a Catfish Scam?
This duo of scam artists targeted a very specific population. They went after young Marines that likely didn't have the worldly experience to know they were being conned. These young soldiers are far from home, probably lonely, and eager to find someone they can love. That makes them ideal targets for catfishers.
Here Are Some Warning Signs You Might Be the Victim of a Catfisher
#1 If they seem like a perfect match, are extremely attractive, and it's just too good to be true.
#2 If you meet them online but never see them in person and make excuses why you can't meet.
#3 If they tell you they can't video chat or Skype and make excuses about a device or technical issue.
#4 If they encourage you to get serious and make commitments and declarations of love very fast.
#5 If they make excuses for why they can't talk on the phone, say they're busy or traveling, it's a sign.
#6 If they ask you for money, even a small amount, and offer a sob story to get the cash, that's bad.
#7 If they have very few photos on their social media profile and few contacts, that's a sign.
Catfishers Can Be Caught If You Know What to Look For
Ignorance is the best tool of a catfisher – and faith. If you're lonely, looking for love, or are online seeking companionship, you have fallen into the pool where catfishers prey on the unsuspecting. Don't be taken advantage. Soldiers and Marines are often targeted because they know you might be far from home and isolated from your support network. Here are some ways to catch a possible catfisher.
#1 Search their photos on Google Image. You can search using a link to the image or save the image and upload to Google. See if the image is associated with other profiles or names you don't know.
#2 Reverse search their phone number on Google to see what name the number is associated with and see if it aligns to what you've been told.
#3 Ask where they work and for other information that can be verified. Look up the business they told you and call to ask for them at work.
#4 Check their Facebook and other social media accounts. If they have few friends and no photos of themselves with others, that's a huge red flag. You can also grab photos there to check on Google image.
#5 Google them by name to see what comes up – if they don't exist online or the information you find doesn't align to what you've been told, you may be dealing with a catfish.
If you have fallen in with a catfish and they've stolen your identity and left you with debt you can't afford, that can be serious trouble for Wilmington Marines. Bad credit can cost you a security clearance and ruin your military career. In some cases, bankruptcy may help resolve your financial issues. It gives a fresh financial start and can protect your security clearance.
As you can see from the criminal case above that targeted Marines, if something sounds too good to be true, it probably is – and you must be careful when making friends and pursuing romance online. To find out more about the benefits of North Carolina bankruptcy, contact the Law Offices of John T. Orcutt. Call +1-919-646-2654 now for a free Wilmington bankruptcy consultation at one of our locations in Raleigh, Durham, Fayetteville, Wilson, Greensboro, Garner or Wilmington.