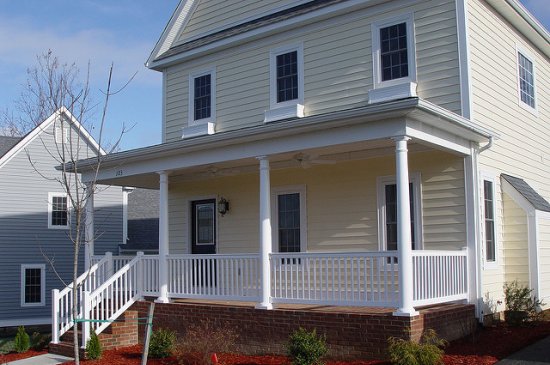 Wilmington housing market is booming
Image Source: Flickr User Jack Duval
Last month, March home sales in Wilmington, North Carolina were up almost 30% over last year, and local realtors expect the trend to continue. What's more, March 2017 represented a nearly 60% jump from February 2017, so the uptick is sharp and notable. It has been more than a decade, in March 2005, when home sales were this aggressive in Wilmington. There are now six neighborhood developments underway to keep up with the housing boom – these are all signs of Wilmington's economic recovery.
Too Few Homes, Many Eager Buyers
Neal Johnson of Cape Fear Realtors told Star News, "The consumer is just very confident and secure in the real estate market. Everyone is jumping in and ready to get back into real estate." Last month was the sixteenth consecutive month for surging sales growth in Wilmington, and the increase in buying, combined with lower availability makes this a seller's market. That can be a good thing for you if you have a home but are struggling with debt and bills.
Stuck with a Home You Can't Afford?
Even though the Wilmington area and much of North Carolina is on an economic rebound, that doesn't mean that individual consumers aren't struggling. The economy can be good and your finances still in trouble if an event has thrown you into deep debt. In some cases, it might be divorce and in other, accident or serious illness that increases your medical expenses and decreases your income. If you're considering tapping your home's equity, think carefully how you do it.
Sell vs. HELOC
Some homeowners tap into home equity lines of credit to deal with a debt crisis, but this isn't always the best approach. If you're already struggling to pay your mortgage, adding a second mortgage payment won't be easy to accommodate in your budget. Another option is to sell your home if you're not behind on your mortgage (or just a little behind). If you have positive equity, you may be able to sell that home and buy a less expensive one with a lower mortgage.
Medical Debt Can Wreck You
When a serious illness or major accident happens, Wilmington consumers can quickly get in over their head with debt. Insurance doesn't cover 100% of medical costs, and many plans have steep deductibles that can break the bank and coinsurance percentage on top of the deductible. You can find yourself quickly in more debt than you can handle. Medical creditors won't report your delinquency right away but, after a few months, they will turn to a debt collector, and it will impact your credit score.
Some consumers max out their credit cards and may tap a home equity line of credit to deal with the debt. This can be an appropriate solution if the event is short-term, you're certain you'll be back to work soon, and the increased expense is only temporary. However, if your illness is lingering and there's a long road ahead, you may want to consider other options. Even if the event was short-term, if the resulting debt is catastrophic, you may want to consider other options and leave your home alone.
Keep Your Home, Ditch the Debt
If you're a Wilmington consumer deep in medical and credit card debt, but current on your mortgage, you might be able to shed what you owe and keep your home. North Carolina bankruptcy shields $35k in equity for individual bankruptcy filers and $70k in equity for a couple filing bankruptcy together. Medical bills and credit cards can be totally discharged in Chapter 7 bankruptcy. If you have more equity than you can protect, Chapter 13 bankruptcy can put you on a repayment plan to get caught up on debt.
The booming economy can be great for you but only if you're not mired in debt. To find out more about how Wilmington bankruptcy can benefit you, contact the Law Offices of John T. Orcutt. Call +1-919-646-2654 now for a free North Carolina bankruptcy consultation at one of our locations in Raleigh, Durham, Fayetteville, Wilson, Greensboro, Garner or Wilmington.