The Town of Clayton, in Johnston County, North Carolina is built on the site of an Indian trading path through territory that is now Johnston and Wake counties. Called the Green Path, this old Indian route was established by Tuscaroras, an Iroquoian-speaking tribe. The Town of Clayton was incorporated, along with Bentonsville, Beulah, Boon Hill, Elevation, Ingrams, Meadow, O'Neals, Pleasant Grove, Selma, Smithfield, and Wilders, in 1869. With a 2007 population of approx 36,196, Clayton is one of the largest municipalities in Johnston County.
Although there is much controversy about the naming of Clayton, NC, there is no doubt that it was named in honor of Senator John Middleton Clayton (1796 - 1856) from Delaware. Located near two interstate highways: I-40 and I-95, Clayton sits on the western edge of Johnston County. Clayton is about 15 minutes to the east of the state capital of North Carolina, Raleigh, and about 30 minutes from NC's world famous Research Triangle Park.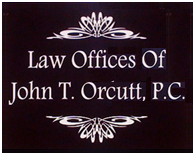 You may be considering the financial option of bankruptcy, a federal plan that allows debtors to divide assets among creditors and free themselves of financial obligations that cannot be repaid. In some cases, debtors can stay in business and use new revenue to resolve old debts. Clayton is in the Eastern District, with Bankruptcy Courts in Elizabeth City, Fayetteville, New Bern, Raleigh, Wilmington, and Wilson. The court's official Web site can answer many of your bankruptcy questions. The Wilson Division is located at 1760-A Parkwood Blvd W, Wilson, NC 27893-3564 (phone: 252-237-0248), while the Raleigh Division is at 300 Fayetteville Street, Second Floor, Raleigh, N.C. 27601-1799 (phone: 919-856-4752).
Do you have question about bankruptcy and live in Clayton North Carolina? Get your questions answered by taking advantage of our FREE consultation service at the law offices of John T. Orcutt. We will answer questions and advise you of your options to become debt free. We will advise you on the best course of action to take to get you out of debt and to get your life back. You can make an appointment online or call us at (919) 847-9750 to do so. I