Garner, North Carolina is located in Wake County in the mid-central portion of NC. The current estimated population for Garner is 26,200 -- a substantial growth since the last official count in the year 2000 (which was 17,757). Garner is located approximately 8 miles south of Raleigh, North Carolina's capital city, at Interstate 40 and U.S. Highway 70. World renowned golfing events, professional sporting events and quick access to the Triangle's top rated universities and the Research Triangle Park itself, gives quiet and comfortable Garner easy reach to the area's job centers. Garner's residents and visitors enjoy a range of community parks, recreational activities, arts and entertainment.
Garner can truly be called a railroad town; shortly after the area was chosen as the station location for the North Carolina Railroad between Goldsboro and Charlotte, the town of Garner was on its way to creation. After being dubbed "Garner's Station," a post office was established in 1878 and soon after the Town of Garner was incorporated in 1883. There are, however, records indicating a church settlement as early as 1756 in the immediate area.
While Garner has enjoyed steady growth over the last few decades, it was not explosive, and that has allowed the town to prepare for the increases proactively. Garner still has its small town charm and intact municipal and business services that keep pace with growth. A slower pace doesn't mean taking a back seat in any area of development, and Garner provides outstanding access to cutting-edge health care, education and technology for its citizens. With more than 40 percent of its adult population holding a bachelor's degree or higher, the residents of Garner help staff the Triangle area, one of the nation's hottest job markets.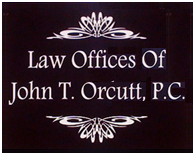 You may be considering the financial option of bankruptcy, a federal plan that allows debtors to divide assets among creditors and free themselves of financial obligations that cannot be repaid. In some cases, debtors can stay in business and use new revenue to resolve old debts. Garner is in the Eastern District, with Bankruptcy Courts in Elizabeth City, Fayetteville, New Bern, Raleigh, Wilmington, and Wilson. The court's official Web site can answer many of your bankruptcy questions. The Wilson Division is located at 1760-A Parkwood Blvd W, Wilson, NC 27893-3564 (phone: 252-237-0248), while the Raleigh Division is at 300 Fayetteville Street, Second Floor, Raleigh, NC 27601-1799 (phone: 919-856-4752).
Do you have lingering questions about bankruptcy? Get your questions answered by visiting the law offices of John T. Orcutt for a FREE one on one debt consultation. We will advise you on the best course of action to take to get you out of debt and to get your life back. You can make an appointment online or call us at (919) 847-9750 to do so.