Goldsboro, North Carolina was incorporated in 1847 as the town of Goldsborough, and the name was officially changed to Goldsboro in 1869. Goldsboro started near a railroad line, the Wilmington and Raleigh.  In the 1830s, a hotel was built and a community was beginning to develop. This community became known as Goldsborough's Junction after Major Matthew T. Goldsborough, an assistant chief engineer with the railroad line. Goldsboro, NC was an important railroad junction during the Civil War. Confederate troops were stationed here to guard the city and report for duty by rail.
Goldsboro, population 38,203, is the county seat of Wayne County. The city is located in the North Carolina's Coastal Plain and is bordered to the south by the Neuse River and the west by the Little River. The Waynesboro Historical Village, located in Goldsboro, borders these two rivers. The 150-acre park is comprised of the 11 structures that date back to the 1800s, including a Quaker Meeting House and a working black smith shop.
Goldsboro, NC is the proud home of Seymour Johnson Air Force Base, home of the 4th Fighter Wing. The Seymour Johnson Air Force Base opened in April 1942. The installation is named in honor of U.S. Navy Lt. Seymour A. Johnson, a Goldsboro native who was killed in a plane crash in 1941. In 1946, following World War II, the base was deactivated. In 1954, town leaders successfully lobbied to have the base reopened. Seymour Johnson was reactivated in 1956 Goldsboro's population and businesses have increased as a result of the presence of the airbase.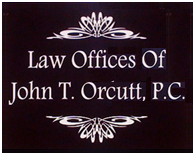 You may be considering the financial option of bankruptcy, a federal plan that allows debtors to divide assets among creditors and free themselves of financial obligations that cannot be repaid. In some cases, debtors can stay in business and use new revenue to resolve old debts. Goldboro is in the Eastern District, with Bankruptcy Courts in Elizabeth City, Fayetteville, New Bern, Raleigh, Wilmington, and Wilson. The court's official Web site can answer many of your bankruptcy questions. The Wilson Division is located at 1760-A Parkwood Blvd W, Wilson, NC 27893-3564 (phone: 252-237-0248), while the Raleigh Division is at 300 Fayetteville Street, Second Floor, Raleigh, NC 27601-1799 (phone: 919-856-4752).
Do you have questions about bankruptcy and live in Goldsboro North Carolina? We can answer all your questions with our FREE confidential debt consultation. Please visit the Law offices of John T. Orcutt in Wilson to find out more. You can make an appointment online or call (252) 234-9194 to set up your FREE consultation. From Goldsboro take take I-795 N to exit 107 then US-301 toward US-264 E then turn left at Ward Blvd. For directions and a bird's eye view to more easily find our Wilson office please click here.