Kinston, North Carolina was established in 1762. Originally Kingston, it was named in honor of King George III, who had recently ascended to the throne. In 1784, following the end of the Revolutionary War, the residents of Kingston requested that the letter "g" be dropped from the towns name, creating Kinston. Still distasteful of royalty, Kinston briefly changed its name to Caswell in 1883; the name reverted to Kinston one year later.
Kinston, population 23,688, is centrally located in eastern NC in NC's Inner Banks region in Lenoir County. This central location has fueled development in the form of the NC Global TransPark, a combined airport and industrial complex spanning over 15,000 acres. The North Carolina Global TransPark (GTP) was developed by NC to attract industry and bring increased economic opportunities to the region by transitioning the area from an agricultural base to an industrial base.
Kinston, NC is also home of the Kinston Indians , a professional baseball team that plays at the historic Grainger Stadium. For drag racing fans, The Kinston Drag Strip offers year-round entertainment.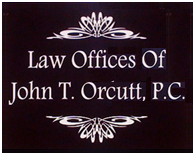 You may be considering the financial option of bankruptcy, a federal plan that allows debtors to divide assets among creditors and free themselves of financial obligations that cannot be repaid. In some cases, debtors can stay in business and use new revenue to resolve old debts. Kinston is in the Eastern District, with Bankruptcy Courts in Elizabeth City, Fayetteville, New Bern, Raleigh, Wilmington, and Wilson. The court's official Web site can answer many of your bankruptcy questions. The Wilson Division is located at 1760-A Parkwood Blvd W, Wilson, NC 27893-3564 (phone: 252-237-0248), while the Raleigh Division is at 300 Fayetteville Street, Second Floor, Raleigh, NC 27601-1799 (phone: 919-856-4752).
Do you have questions about bankruptcy and reside in Kinston North Carolina? If so you need a bankruptcy attorney who has all the answers. Please visit the Law offices of John T. Orcutt in Wilson NC for a FREE in depth bankruptcy consultation that will explain the best course of action to take depending on your debt situation. You can make an appointment online or call (252) 234-9194 to do so. If you are coming out of Kinston take 58 N to 58 Business N to Ward Blvd. For directions and a bird's eye view to more easily find our Wilson office please click here.