Mt. Olive, North Carolina is located in Wayne County in the southeastern part of NC. While part of Mt. Olive crosses into adjacent Duplin County, Wayne carries the bulk of the developed land mass and the largest segment of population. That population of approximately 4,442 is a help in supplying the town's biggest employer with staff -- Mt. Olive boasts the world famous Mt. Olive Pickle Company. The company's two0tone green jars and the crispy crunchy pickles inside are well known; and what better place to locate the factory than at the corner of Cucumber and Vine Streets. With the support and assistance of the community of Mount Olive, the Mount Olive Pickle Company holds The Mount Olive Pickle Festival the last full weekend of April each year.
Opportunities for higher education abound in the area. Within 60 miles of Mt. Olive are 4 Universities including North Carolina State University at Raleigh; Local Wayne County Community College, and two other community colleges plus the Wake Technical College. The town of Mt. Olive itself is home to the Mt. Olive College, a private liberal arts college sponsored by the Convention of Original Free Will Baptists. Its major bachelor degree programs include business, protective services, recreation and fitness, visual and performing arts and theology.
Not only do pickles pour from Mt Olive's industrial business section, but so do turkeys from Carolina Turkey Company, and furniture from the Boling Furniture Company. Timber and wood products from Georgia-Pacific are the major employment provider in the area although most of the local plant operations are outside of Mt. Olive proper. Timber, OSB products, plywood and wood chips are produced by the four GP plants.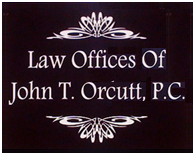 You may be considering the financial option of bankruptcy, a federal plan that allows debtors to divide assets among creditors and free themselves of financial obligations that cannot be repaid. In some cases, debtors can stay in business and use new revenue to resolve old debts. Mt. Olive is in the Eastern District, with Bankruptcy Courts in Elizabeth City, Fayetteville, New Bern, Raleigh, Wilmington, and Wilson. The court's official Web site can answer many of your bankruptcy questions. The Wilson Division is located at 1760-A Parkwood Blvd W, Wilson, NC 27893-3564 (phone: 252-237-0248), while the Raleigh Division is at 300 Fayetteville Street, Second Floor, Raleigh, NC 27601-1799 (phone: 919-856-4752).
Do you have questions about bankruptcy and reside in or near Mt. Olive North Carolina? If so please visit the Law offices of John T. Orcutt in Wilson to find out more. We provide a FREE in depth bankruptcy consultation that will explain the best course of action to take depending on your debt situation. You can make an appointment online or call our Wilson office at (252) 234-9194 to do so. If you are coming out of Mt. Olive take US-117 N / I-795 N get off at exit 42 to downing street and take a left onto Ward Blvd. For directions and a bird's eye view to more easily find our Wilson office please click here.