Northampton County, North Carolina is located in the extreme northeastern tip of North Carolina and hugs the Virginia border. Jackson, NC is the county seat. Northampton County has a population of 21,290, according to the US Census Bureau's 2006 estimate. Northampton County contains 536.48 square miles with an average of 41.2 persons per square mile.
Northampton County, NC is number one in peanut production in the state and number two in cotton production. Agri-business accounts for approximately half of the revenues generated by local business. The principle types of farm products are: peanuts, cotton, broilers and hogs. Northampton County, NC is where you will find a little known American Fort, Fort Christanna, built in 1713. It is the basis of many stories involving Native American Indians who were chased from the area in 1720. It is said that many assumed English surnames and maintained a low key presence in close proximity to their old home at the fort until they were safely and slowly absorbed by the locals.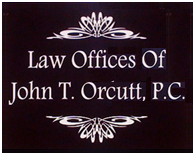 You may be considering the financial option of bankruptcy, a federal plan that allows debtors to divide assets among creditors and free themselves of financial obligations that cannot be repaid. In some cases, debtors can stay in business and use new revenue to resolve old debts. Northampton County is in the Eastern District, with Bankruptcy Courts in Elizabeth City, Fayetteville, New Bern, Raleigh, Wilmington, and Wilson. The court's official Web site can answer many of your bankruptcy questions. The Wilson Division is located at 1760-A Parkwood Blvd W, Wilson, NC 27893-3564 (phone: 252-237-0248), while the Raleigh Division is at 300 Fayetteville Street, Second Floor, Raleigh, N.C. 27601-1799 (phone: 919-856-4752).
Do you have questions about bankruptcy and reside in or near Northampton County North Carolina? It would be woth it to drive to the law offices of John T. Orcutt in Wilson. We provide a 100% FREE in depth bankruptcy consultation that will answer any questions you have about bankruptcy as well as advising you on the best course of action to take to get you out of debt. You can make an appointment online or call our Wilson office at (252) 234-9194 to do so. If you are coming out of Northampton County get on I95 S and then 58 S and take a left onto Ward Blvd. For directions and a bird's eye view to more easily find our Wilson office please click here.