Sanford, North Carolina,  was incorporated on February 11, 1874.  Sanford was named for C.O. Sanford, a railroad civil engineer instrumental in the building of the rail lines through the area.  In 1947, Sanford merged with Jonesboro. The downtown area of Jonesboro became known as Jonesboro Heights.  Having two distinct city centers gives Sanford the unique pleasure of having two downtowns, Jonesboro Heights and Downtown Sanford. With the merger of the two incorporated towns of Jonesboro and Sanford, a new municipal charter was adopted and the official name became the City of Sanford.
Sanford, NC, population 23,220, is the county seat of Lee County. Sanford occupies a prime location in Lee County. The white beach sand from the coast meets the Piedmont clay, making the city a prime area for the production of clay bricks. In 1959, Sanford produced 10 percent of the bricks in the United States and was named "Brick Capital of the USA."
The Temple Theatre is Sanford and Lee County's number one year-round tourist attraction. Built in 1925, this historic theatre was less than half a block from the railroad depot and served as an entertainment stop for traveling shows and the stars of vaudeville.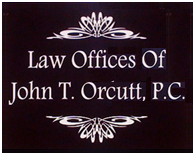 You may be considering the financial option of bankruptcy, a federal plan that allows debtors to divide assets among creditors and free themselves of financial obligations that cannot be repaid. In some cases, debtors can stay in business and use new revenue to resolve old debts. Sanford, NC is in the Middle District, with Bankruptcy Courts in Durham, Greensboro, and Winston-Salem. The court's official Web site can answer many of your bankruptcy questions. The Greensboro office is at 101 S. Edgeworth Street, Greensboro, NC 27401 (phone: 336-358-4000), while the Winston-Salem office is at 226 S. Liberty Street, Winston-Salem, NC 27101 (phone: 336-397-7785).
Do you have questions about bankruptcy and live in Sanford North Carolina? If the stress just to make minimum payments is starting to wear on you and your family then you need to speak to a bankruptcy attorney at the Garner law offices of John T. Orcutt. Get your questions answered by taking advantage of our FREE one on one debt consultation. Come in and find out what your options are and what you can do to be debt free. We will advise you on the best course of action to take to get you out of debt and to get your life back. You can make an appointment online or call us at (919) 847-9750 to do so.