Wilson, North Carolina is renowned for its charming Southern hospitality and the graciousness of its elegantly preserved historic homes. Wilson, NC also hosts the East Coast's largest antique market. With an ideal location at the crossroads of Interstate Highway 95 and US 264, Wilson lies only 45 miles from the N.C. state capital of Raleigh, and the high-tech Research Triangle Park is just one hour away.
Serving as the county seat to Wilson County, and one of North Carolina's most promising economic development areas, Wilson's estimated 2006 population was 76,624. Wilson has an excellent public school system, while Barton College and the Wilson Technical Community College provide higher learning. The Eastern NC School for the Deaf and the Sallie B. Howard School for The Arts and Education round out the educational opportunities here. Antique shops line the historic downtown district of Wilson, NC, and visitors from all over the world attend the seasonal Flea Markets here. For sports enthusiasts there is the North Carolina Baseball Museum and the Southern National Speedway. Golfing, boating and fishing are also available.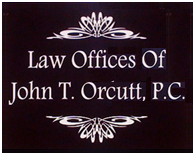 You may be considering the financial option of bankruptcy, a federal plan that allows debtors to divide assets among creditors and free themselves of financial obligations that cannot be repaid. In some cases, debtors can stay in business and use new revenue to resolve old debts. Wilson County is in the Eastern District, with Bankruptcy Courts in Elizabeth City, Fayetteville, New Bern, Raleigh, Wilmington, and Wilson. The court's official Web site can answer many of your bankruptcy questions. The Wilson Division is located at 1760-A Parkwood Blvd W, Wilson, NC 27893-3564 (phone: 252-237-0248), while the Raleigh Division is at 300 Fayetteville Street, Second Floor, Raleigh, N.C. 27601-1799 (phone: 919-856-4752). 
If you and your family are experiencing debt troubles and considering bankruptcy as a means to get out of debt. If you live in or around Wilson North carolina, please visit the Law offices of John T. Orcutt. We provide a free consultation that will best advise you of your situation and what course of action to take. If you live in or reside near Wilson County North Carolina please visit our bankruptcy law office in the city of Wilson. Call today to make an appointment 252-234-9194. For directions and a bird's eye view to more easily find our Wilson office location please click here or click the image to the right.