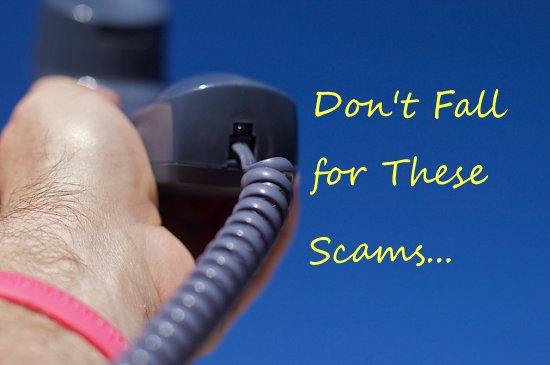 Don't fall for these phone scams
Image Source: Flickr User Alan Levine
Consumer scams are a constant threat no matter where you live but in North Carolina, there are some fraudsters operating right now in our state taking advantage of innocent victims. In today's consumer alert, we'll take a look at three major North Carolina scams reported by the FBI, North Carolina Department of Justice and the Better Business Bureau. Some relate to debt collections, some to cash "opportunities" and others that threaten jail. All of these scams are despicable. Read this North Carolina consumer scam alert to protect yourself.
#1 FBI student loan scam
This fraud starts with a call from the "FBI" and uses a caller-ID spoofer so that your phone will read "FBI" to try and convince you that the call is legitimate. This scam has occurred in NC and seven other states. The "agent" from the FBI says that you owe student loans and demands payment now. The scammer may already know your name and will threaten that you won't graduate if you're still in school, will lose your diploma if you're out of college already, or may even threaten arrest over student loans. The caller will demand immediate payment via MoneyGram to stop the collection efforts or avoid an arrest.
Whatever the threat, it is not legitimate, and the caller is not calling from the FBI. It's important to know that the FBI will not call you about debt, student loans or otherwise, and the government doesn't ask you to pay via MoneyGram or GreenDot. Tell the scammer not to call your house again and hang up. If they call back, tell them you're reporting them to the police and record the number and contact the North Carolina Department of Justice.
#2 Department of Justice scam
This fraud is particularly ironic because the Department of Justice is where you typically report North Carolina scam artists. This scam also uses a caller ID spoofer so that your phone will read North Carolina Department of Justice and the main number of the DOJ (919) 716-6400. The caller says you owe unpaid taxes (or a ticket or some other governmental tax or fee) and must pay a $1000 fine to avoid immediate arrest. Neither the fines nor the call is legitimate and paying them is a fool's game.
Unfortunately, you can't rely on your caller ID these days thanks to sophisticated scam techniques. You may get a call that looks like it's from the NC DOJ, IRS, your bank, or your credit card company, but that's not and it's fraudsters looking to take advantage. If you get a call from one of these "agencies", end the call and do a quick web search to see if it's a common scam. Alternately, for a call from your credit card or bank, hang up and call back the number on the back of your credit card or your bank statement to verify.
#3 Jamaican Lottery scam
This one is another phone-based scam where someone calls to tell you that you've won big bucks in the lottery, but you have to pay taxes or a processing fee or some monetary input to get the money you've "won." The very idea that someone would call and tell you that you've won millions of dollars is a red flag in itself, particularly if you know you haven't entered any contests or bought any lottery tickets. CNN did a report about the enormity of scams run out of Jamaica that prey on older Americans.
The callers may call over and over telling you that you won, telling you they want to stay on the phone while you go and get a Green Dot or other instant cash card to pay the "fee." People have been scammed out of hundreds and even hundreds of thousands of dollars, and it keeps happening. Hang up on these calls, block the numbers through your phone company, and change your number if you can't stop it then list it on "do not call" services. Don't let the lure of easy money cheat you out of your cash!
The bottom line with all of these scams is that you should be very cautious of anyone who calls and tells you they are someone in a position of power to arrest you, punish you, or greatly reward you. These scammers rely on heightened emotions of fear or joy to con you out of your hard-earned money. Fraud can ruin your finances and your life. Don't fall for it. Don't be scared to hang up on a call that gets pushy. Do your homework. Check online and you'll find the evidence that others have been hit by the scam, so you know not to fall for it. And be sure to report any malicious activity, suspicious calls, or fraud to the North Carolina Department of Justice (www dot NCDOJ dot gov).
If you have financial problems and are looking for a way out, don't fall for a quick cash scam, contact the Law Offices of John T. Orcutt for a free consultation to see if North Carolina bankruptcy is a fit for your circumstances. Call +1-919-646-2654 now for a free consultation at one of our locations in Raleigh, Durham, Fayetteville, Wilson, Greensboro, Garner or Wilmington. Get the financial fresh start you deserve!