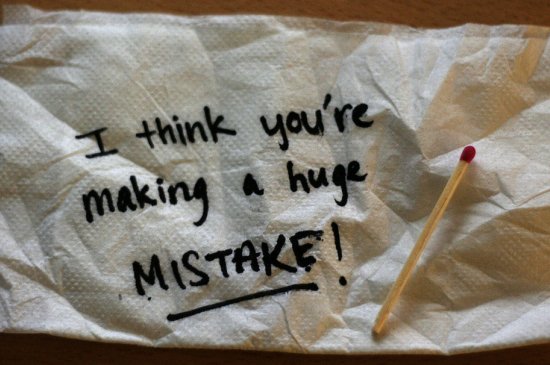 Don't make a bankruptcy mistake
Image Source: Flicker User Herman Yung
Chapter 13 bankruptcy accounts for roughly one-third of all consumer bankruptcy filings, but you should know if you're considering Chapter 13, that's a tough road to make it to discharge. Often, filing a Chapter 13 may be a strategic move to forestall a foreclosure of a home or repossession of a car. But in some circumstances, it's best to bypass Chapter 13 and move directly to Chapter 7 to get complete debt relief. Here's three instances when a Chapter 13 may not be your best bet.
#1 If you can't afford your current debt payments
Chapter 13 allows you time to catch up on past due balances on secured debt like a mortgage and car loan. It also buys you a reprieve from paying much on unsecured debt like credit cards or medical bills. But to afford a Chapter 13 repayment plan, you must be able to make your current mortgage and car payments. And that's on top of your living expenses plus leftover cash to pay installments on the past due balances. If you are not earning enough to service just the current payments on secured debt plus your costs of living, you will very likely not be able to keep up with a Chapter 13.
#2 If you are current on your secured debts
Chapter 13 is usually recommended when you have assets you stand to lose in a Chapter 7 case. And Chapter 13 is a plan to help you get caught up. However, if the debts you're behind on are all unsecured debts like credit cards and medical bills, you will likely get better results from a Chapter 7. If you are current on your mortgage and car loan, your Chapter 13 will then service your unsecured debts. You may feel like you should pay these debts, but if you are living paycheck to paycheck to keep up with these, Chapter 7 is a much faster route to financial freedom.
#3 If you need to improve your credit rapidly
Under a Chapter 13 plan, you will pay more to your creditors than with a Chapter 7, it doesn't look any better on your credit report. You usually cannot take on new credit during a Chapter 13, so you can't rebuild your credit while you're in the three to five-year repayment plan. With a Chapter 7, your slate is cleaned of much of your debt, and you can usually begin to apply for new credit to boost your FICO score within three to six months after you file Chapter 7. If you want to buy a home in a few years, need better credit to get a job, or for any other reason, Chapter 13 may not be the best route for you.
Is Chapter 13 your only option?
If you are earning a good wage, you may assume that you won't qualify for a Chapter 7 and that Chapter 13 is your only choice, but this is not necessarily true. Even people with very high earnings can qualify for a Chapter 7 so long as their debt is too great for them to service on that salary. You should talk to a reputable North Carolina attorney about your options before you set your mind on Chapter 13 versus Chapter 7. Even if you have assets to protect, North Carolina bankruptcy exemptions may allow you to keep your assets while taking advantage of the benefits of Chapter 7 bankruptcy.
To find out more, contact the Law Offices of John T. Orcutt today. Call +1-919-646-2654 for a free North Carolina bankruptcy consultation in Greensboro, Raleigh, Garner, Wilson, Durham or Fayetteville.
Sources: