North Carolina Exemption Form helps you protect yourself from judgments
Image source: TheSauce.net.au
If you are behind on your bills, sometimes a creditor will get aggressive and go to court to get a judgment against you. You can try and fight it, particularly if the creditor secured the judgment through shady tactics, but if you're unsuccessful, you can still try and shield your assets from being taken to satisfy your debts. Here's what you need to know about using the North Carolina exemption form to protect yourself.
The North Carolina Judgment Process
Before a judgment is issued, there are some steps that will be taken. First, the creditor will file a lawsuit against you. If you ignore the notice to appear to fight the lawsuit or if it's sent to an old address, typically a default judgment is issued against you for whatever amount the creditor requested. It's important to show up to fight this to at least make sure the amount they claim you owe is actually owed - even if you can't afford to pay it. After the judgment is issued, you'll receive (usually from a Deputy Sheriff knocking at your door with papers) a Notice of Rights to Have Exemptions Designated along with the judgment determination.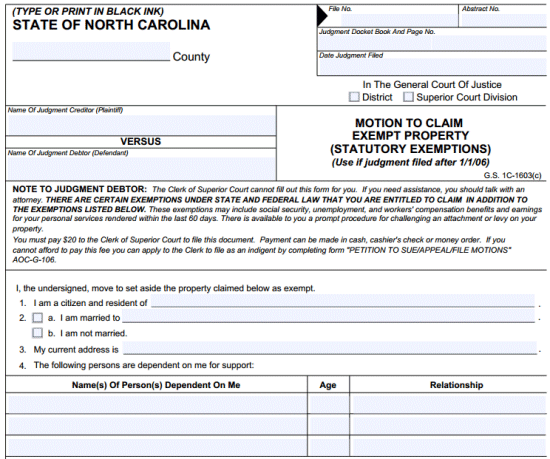 Motion to claim exempt property - North Carolina judgment form
Image source: NCCourts.org
Rights to Have Exemptions Designated
Once you receive this notice, you have 20 days to file a Motion to Claim Exempt Property (Statutory Exemptions). This form can be confusing and court personnel are not allowed to assist you. You can seek attorney advice, but that's also an expensive option. The upper part of the form is pretty simple. You complete your name, the name of the creditor and the case information from the judgment form. If you don't know the judgment docket book and page number, the county clerk can provide this information – they just can't help you decide how to complete the form.
The next part is whether you're married, where you live and a list of those financially dependent on you. Be sure to include your spouse (if you're the primary breadwinner), your children and any adult dependents such as an elderly parent you help support. The form only allows three people to be listed. If you have more than three dependents, list them all. Attach a separate piece of paper to list
your additional dependents that won't fit in the supplied area.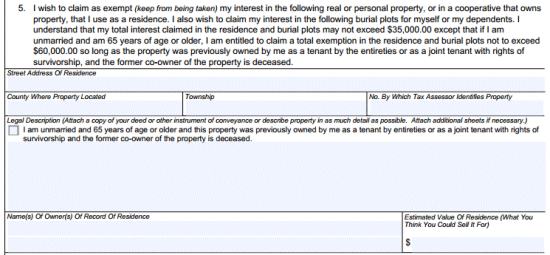 Exempt your real estate from a North Carolina judgment
Image source: NCCourts.org
Complications of the Exemption Form
It's number five and below where the form gets more complicated. Number five allows you to list your home and liens on it (mortgage(s) and home equity lines of credit). Up to $35,000 in equity can be protected if you are under age 65. Equity is the difference between the value of the property and what you owe on it.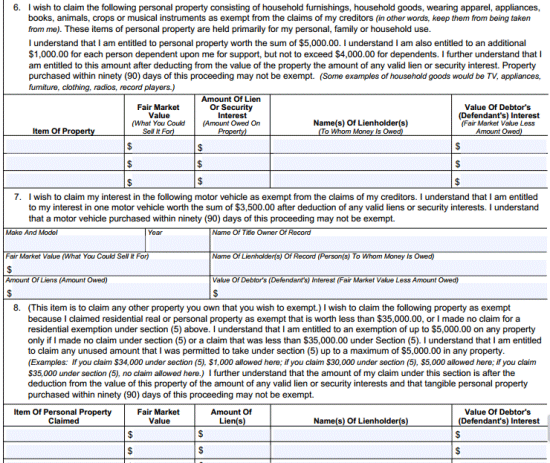 Exempt your property, car and an extra $5,000 from a North Carolina judgment
Image source: NCCourts.org
Exempting Your Personal Property and Vehicles from a Judgment
In item 6, you can also exempt $5,000 worth of personal property for you and another $1,000 for each dependent up to $4,000 total for all dependents. This allows you to protect a max of $9,000 of personal property. This includes your TVs, computers, furniture, clothing and jewelry. You don't have to list these items at the price you paid – instead you list them at the price they are now worth. Rather than just saying $5,000 of property, you'll get a better result if you list off your property in detail such as: 2 TV's $500, dining room set $250, etc.
In item 7, you can exempt your vehicle up to a certain amount. If a car is in your spouse's name only, don't worry about it – it's only a car that's in your name or your name jointly that you must be concerned with. You can protect equity in your car up to $3,500. That is the fair market value of the car (not the price you paid) less any loans or liens you have on it. In item 8, you can use up to $5,000 if you claimed less than $35,000 on your home exemption or if you didn't use the home exemption. This can be used for personal property or a vehicle.
Exempt work tools and medical aids from a North Carolina judgment
Image source: NCCourts.org
Work Tools, Health Aids and Insurance Policy Exemptions
You can protect $2,000 of work tools such as actual tools, a computer or laptop you use for work or other implement. This can free up some of your personal property exemption in item 5 above. Medical equipment you or your dependents need can also be excluded in item 9 rather than under personal property. This can include a hospital bed, medical machine, wheelchair, etc. On item 11, list any life insurance policies that you own so long as your spouse or children are the beneficiaries and these will also be protected.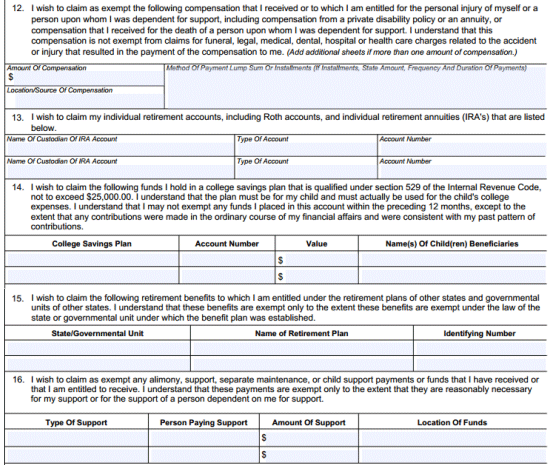 Exempt income from a North Carolina judgment
Image source: NCCourts.org
Exempting Income Is Critically Important
Items 12-16 on this form are very important because this is where you can get certain aspects of income exempted from your creditor's grasp. VA benefits, Social Security payments, disability payments, federal or state government retirement benefits or pension payments, child support, and alimony or payments for a settlement for a personal injury are all exempt. Also exempt are funds in a 529 college savings account up to $25,000, any funds in your 401(k), IRA or other retirement account. For any of the items you need to list anywhere on this form, if there are not enough spaces, attach additional paper as needed - just be sure to reference which section it pertains to.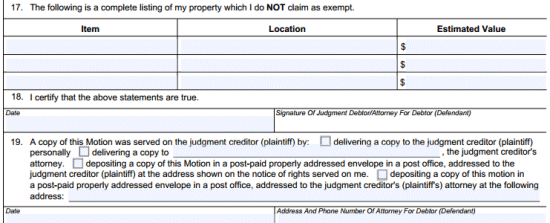 Determine what is not exempt from a North Carolina judgment
Image source: NCCourts.org
List What's Not Exempt to Limit the Scope of What Can Be Seized
In item 17, you list what you're not exempting. If you have a second car that's not exempted, cash savings that are not from exempted income or other assets you can't protect using the exemptions on this form, you'll need to list them and understand this makes them eligible for the creditor to take from you or force you to sell to satisfy your debt.
Consider Bankruptcy as an Alternative to the Judgment
If you have more than one judgment, debts piled up and the threat of collections and more lawsuits pending over bills you can't pay, you may need to look beyond the Exemptions Form and seek a permanent solution to your financial dilemma. Chapter 7 bankruptcy can rid you of the majority of your debts, judgments and pending lawsuits. Contact the law offices of John T Orcutt to find out if you're a candidate for bankruptcy and how it can get you a financial fresh start.