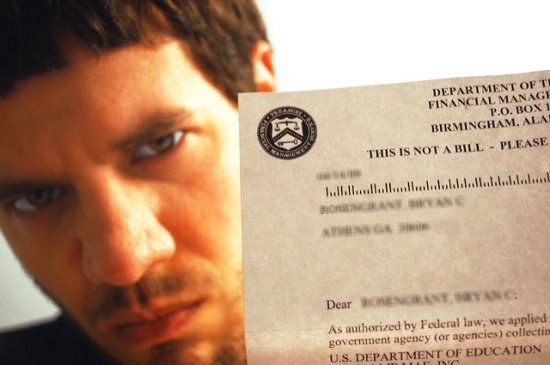 Bad things can happen when you default on student loans
Image by B Rosen via Flickr Creative Commons
Credit bureau Experian reports that more than one-fourth of Americans have an item in the hands of a third-party debt collector. For many, those delinquencies are their student loans. At present, student loans have spiraled into a $1.5 trillion debt crisis for American consumers.
If you go 270 days without making a payment on your student loans, no matter the reason, you are in default. Forbes recently reported that over the past five years, student loan default rates had decreased. However, the latest data indicates it is once again on the rise.
Here are the latest student loan default numbers:
11.5% of borrowers are in default
In the last three years, almost 600,000 more borrowers defaulted
For-profit schools have the highest default rate at 15.5%
Private colleges have the lowest default rate at 7.4%
Federal student loan debt can be overwhelming because federal loan servicers and their debt collectors have incredible powers of collection - and there is no statute of limitations on this debt! Here's a look at five unfortunate things that can happen if you default on your student loans.
1) Your credit score tanks
Federal loan servicers will report your failure to pay to the credit bureaus. The first time you miss a payment, your credit score could take a significant drop. Every month after that that you fail to make a payment, your credit score will continue to spiral lower and lower.
Once the loans go into default and they're handed over to a collection agency, then the debt collector adds a negative entry in the form of a collection item. This represents a double hit to your credit score for the same debt, which further lowers your credit score.
2) You lose eligibility for income-driven plans
One of the ways to make student loan debt payments more affordable is to pursue an income-driven repayment (IDR) plan. These include income-based repayment (IBR), PAYE, and REPAYE, among others. To qualify for an income-driven plan, you must be in good standing on your loans.
Income-driven plans can lower your student loan payments, no matter how much you owe, to as little as a few bucks a month if your income is low. After 20 to 25 years of affordable loan payments, the remaining balance is discharged.
3) You may be garnished
One of the mightiest weapons in the federal student loan debt collector's arsenal is garnishment. In North Carolina, most creditors generally cannot garnish your wages. However, not only can student loan debt collectors go after your wages, but they can also snatch your income tax refund.
Via garnishment, a federal student loan collector can take 15% of your wages, which can be financially crippling. Private student loan debt collectors don't have as much latitude. They can sue for judgement and try to get a lien on an asset, but federal collectors hit much harder.
4) You can be sued
If a student loan debt collector takes you to court for default, the outcome can be staggering. They will sue you for the principal of the loan, and will also go after collection fees, interest, attorney costs, and court fees.
Should you fail to appear in court, the debt collector will get a summary judgment against you and ultimately, the judge might issue an arrest warrant if you fail to appear at subsequent hearings related to the debt.
5) Your debt will grow exponentially
When you default on student loan debt, the amount you owe can quickly double, triple, or quadruple. Many student loan debtors are shocked when they see the cost implication of default. Interest piles onto interest creating an escalating and compounding debt crisis.
As student loan debt is turned over to a collector, they tack on additional fees and then interest piles on top of those fees. You can see how this can rapidly turn into a financial situation that could be unrecoverable.
Consider bankruptcy for your student loans
If your student loan debt is overwhelming, you can't afford to pay even under an income-driven plan, and your dire financial circumstances will be ongoing, you might be able to get relief of student debt in bankruptcy.
Many judges are loosening the standard of undue hardship required for student loan relief in bankruptcy. An added benefit of pursuing bankruptcy relief of student loans is that you can unload other debt that may be dragging you down.
To find out more about student loan debt relief, contact the Law Offices of John T. Orcutt. See reviews from our clients, then call +1-919-646-2654 to schedule a student loan bankruptcy consultation at one of our locations in Raleigh, Durham, Fayetteville, Wilson, Greensboro, Garner or Wilmington.
Resources: